Hubris Towers: The Complete First Season
An uproarious comedy of manners: Why are rich eccentrics moving into a half-finished building — and can Jimmy survive being their hapless concierge? Worlds collide as he encounters love and criminal syndicates in this sidesplitting romp!

$0.99

$4.99
Amazon
Kobo
Humor
Dark Side of the Sun
In this searing blend of erotica and fantasy, the spurned Red King seeks revenge on his land's invaders — but ends up embarking on a scorching affair with their prized prisoner, sexy fae Bran. Is their love hot enough to melt worlds?

$0.99

$5.99
Amazon
Kobo
LGBT
The Typewriter
"Intriguing, impressive, imaginative" (Kirkus Reviews): When three kids find an old typewriter, they embark on an exciting journey in this beautiful picture book. "A thrilling visual adventure and reminder of the way words can transport us" (Publishers Weekly).

$1.00

$5.26
Amazon
Children's
Runes
Raine has enough problems with her missing father and her fragile mother. But when a handsome new neighbor saves her from an attack, she can't stop thinking about him. What dangerous secret is he hiding? A paranormal romance with over 2,800 five-star ratings on Goodreads.

Free!

$3.77
Amazon
Kobo
Teen and Young Adult
The Library
In this supernatural mystery, detective Mark Waters tackles an eerie case — and the deeper he digs, the more improbable the explanation seems… Is it possible that a person murdered 80 years ago is working from beyond the grave?

$1.99

$3.77
Amazon
Kobo
Supernatural Suspense
A Choir of Ill Children
A "disorienting, fully creepy book" (Dean Koontz) from a Bram Stoker Award–winning author: In a decaying backwater, Thomas confronts mysterious forces that threaten the town he both hates and loves. "Spellbinding. Piccirilli writes like lightning, illuminating a dark landscape of wonders" (Douglas Clegg).

$0.99

$5.99
Amazon
Kobo
Horror
The House of Crimson & Clover: Volumes I–IV
In this bewitching box set, two ancient and powerful New Orleans families are blessed — and cursed — by magic. From an author whose "talent for creating atmosphere rivals Daphne du Maurier… This is modern gothic with fierce smarts" (Christopher Rice).

$1.10

$11.33
Amazon
Kobo
Fantasy
Memoirs of a Time Traveler
A rip-roaring sci-fi adventure! When archaeologist David comes across an impossible souvenir, he's dragged into a whirlwind journey that'll take him from the Bronze Age to Hollywood in its heyday. Can he stop a time-traveling thief trying to undo civilization?

$1.99

$5.03
Amazon
Kobo
Science Fiction
Dreams of My Russian Summers
This New York Times Notable Book is "a superb exploration of the sustaining power of memory" (Kirkus Reviews). Every summer, Andrei visits his grandmother in a small Russian village, where she spins wondrous tales of her upbringing. A masterful novel with "stunningly perfect prose" (Booklist).

$2.99

$9.99
Amazon
Literary Fiction
A Bond of Hope
Dreaming of motherhood, Esperanza forges a surprising new love with Gabe, her boss at an adoption agency. But what happens when the past threatens their future together? A captivating Christian romance!

$0.99

$5.03
Amazon
Kobo
Christian Fiction
God, Me, and Sweet Iced Tea
When you feel God's presence in your everyday life, it's as refreshing as a glass of sweet iced tea! Filled with prayers, this insightful book of devotionals will help you on your spiritual journey.

Free!

$5.03
Amazon
Christian Nonfiction
Good Strategy/Bad Strategy
Everyone talks about having a strategy — but how can you create one that actually works? Get your business on the right track using the insights in this expert guide with over 1,100 five-star ratings on Goodreads!

$1.99

$14.99
Amazon
Kobo
Business
Philosophy
A fascinating intellectual tour of life's biggest questions! Plumb the depths of timeless topics like death, beauty, free will, and more in this lively, comprehensive handbook on philosophy through the ages.

$2.99

$6.91
Amazon
General Nonfiction
The Sea Around Us
A New York Times bestseller and winner of the National Book Award! A trailblazing conservationist explores the beauty of the world's oceans — and the epic struggle for survival in their depths.

$1.99

$9.99
Amazon
Kobo
Science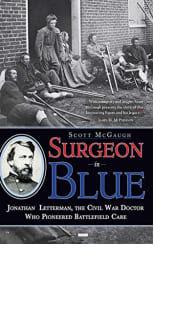 Surgeon in Blue
With the onset of the Civil War, Jonathan Letterman went from an outpost medical officer to a respected chief of medicine. As casualties rose, he devised the innovative care techniques explored in this fascinating history. "Stirring… an incisive portrait of the great doctor and leader" (Publishers Weekly).

$2.99

$15.39
Amazon
History
None but Elizabeth
Elizabeth, daughter of King Henry VIII, has sworn never to marry — but as she grows into England's most powerful queen, she struggles to resist the temptations of her heart. An engrossing historical novel!

$0.99

$3.99
Amazon
Historical Fiction
Sleepless in London
From a USA Today bestselling author: When Caleb meets Rosie at a bar, a dare leads to a no-strings-attached evening together. But when the pair still feels a connection the next morning, could their one-night stand turn into a happily ever after?

$1.33

$3.77
Amazon
Kobo
New Adult Romance
Moment in Time
From a New York Times bestselling author: After a two-year battle with cancer, Jenna is ready to reboot her life. A summer in Nantucket sounds like the perfect way to start living — and wounded soldier Bobby could be someone worth living for…

Free!

$5.03
Amazon
Kobo
New Adult Romance
Twisted Honor
An adrenaline-charged romance: When a standard assignment turns into a high-profile kidnapping case, Deep Six Security operative Slade enlists the help of feisty Taylor — but she may be more trouble than he bargained for!

$1.99

$6.29
Amazon
Kobo
Romantic Suspense
The Dragon's Dilemma
From a USA Today bestselling author: Strapped for cash, Holly is forced to enter into a contract to carry dragon shifter Fergus's child. But when a twist of fate deems Fergus's brother to be Holly's true mate, she'll have to choose between love and duty…

$0.99

$5.99
Amazon
Kobo
Paranormal Romance
The Unexpected Bride
When Becky becomes Isaac's mail-order bride, their new life together holds surprises for them both. "Unexpectedly fresh characters and twists… A great curl-up-on-a-cold-night read" (USA Today).

$0.99

$3.77
Amazon
Kobo
Historical Romance
Amethyst
When shopkeeper's daughter Amethyst is in trouble, she's rescued by Colin, Earl of Greystone — who doesn't want to let her go. From a New York Times bestselling author comes a tale filled with "pageantry, excitement, and color" (RT Book Reviews).

Free!

$5.99
Amazon
Kobo
Historical Romance
Forbidden
From a New York Times bestselling author: When Elliot becomes party girl Fiona's therapist, they quickly become sexually obsessed with each other. But her dark past as a submissive will threaten their forbidden romance… With over 700 five-star ratings on Goodreads.

Free!

$7.55
Kobo
Dark Romance & Erotica
A Change of Heart
When Nic meets a woman who claims to have received his late wife's heart as a transplant, the two are swept up in a romantic, vibrant journey. From "a gifted writer who creates characters that capture the heart" (New York Timesbestselling author Nalini Singh).

$2.99

$10.47
Amazon
Kobo
Contemporary Romance
Return to Love
Bakery owner Cassie Powell thinks she has her small-town life all figured out — until cowboy Jack Martin returns. Can Cassie let him into her heart, especially after he finds out the truth about her young daughter?

Free!

$4.99
Amazon
Kobo
Contemporary Romance
Good Behavior
From a New York Times bestselling author: When Letty overhears a man arranging his wife's murder, she vows to stop the hit from taking place. But her mission draws her into a dangerous and seductive game with a killer in this engrossing read.

$1.18

$2.99
Amazon
Thrillers
You'll Miss Me When I'm Gone
From a New York Times bestselling author: Desperate for change following a family tragedy, Andrea and her nephew Spencer move to Seattle. But their fresh start sours when violent circumstances befall the people closest to them — and a secret from Spencer's past is revealed…

$2.99

$5.38
Amazon
Kobo
Thrillers
Cause to Run
A twisted serial killer stalks the streets, leaving chilling puzzles for the police to solve. Avery Black — a homicide detective known for her controversial methods — is put on the case, but is soon lured into a frantic battle of wits and wills in this nail-biting read.

Free!

$4.99
Amazon
Kobo
Crime Fiction
Angela Marchmont Mysteries: Books 1–3
Who killed Sir Neville Strickland? Could there be a murderer in the Haynes family? Is someone after the legendary diamond necklace of Poldarrow Point? The enigmatic Angela Marchmont is on the case in these enchanting cozy mysteries set in 1920s England.

Free!

$7.55
Amazon
Cozy Mysteries