30 First Dates
When blogger Erin sets out to date 30 men before her 30th birthday, she finds nonstop adventure — and maybe even true love… A delightful romantic romp!

$1.99

$5.57
Amazon
Kobo
Chick Lit
My Besties: The Come Up
Desperate to create a better life for themselves, JuJu and her best friends come up with a dangerous plan to get rich quick. All seems to be going well — until the ladies cross a big-time criminal who'll stop at nothing to get revenge… A fun and fast-paced read!

Free!

$1.25
Amazon
Kobo
African American Interest
Voyage of the Defiance
From a New York Times bestselling author: After being forced to live with her estranged grandfather, Makayla decides to escape back home in an old sailboat. With an accidental stowaway onboard, she embarks on a daring journey…

$0.99

$6.29
Amazon
Kobo
Teen and Young Adult
Sia
Sia was beautiful, popular — and a bully. But after being struck with amnesia, she starts falling for the boy she once tormented… "Uplifting and fast-paced" (New York Timesbestselling author Victorine E. Lieske).

$1.99

$3.77
Amazon
Teen and Young Adult
Wife of the Left Hand
After her life falls apart, Avery finds herself in possession of a supernatural power. And when she returns to Alabama to claim an inheritance, she's pulled into a dangerous, otherworldly mystery…

Free!

$5.03
Amazon
Supernatural Suspense
Rough Draft
What happens when three of the world's best horror writers are trapped in their own terrifying story? The threatened authors retreat to a remote mountain cabin for safety — but they're not alone. "Compelling… kept me turning pages to say the least" (USA Today bestselling author Cheryl Bradshaw).

$0.99

$3.77
Amazon
Horror
The Winds of Khalakovo
Discover "a fascinating world of archipelagic realms and shamanic magic" (Library Journal): When an incoming windship is attacked by an elemental spirit, conflict erupts over the high city of Khalakovo — and a mysterious boy may hold the key to bringing back peace…

$1.34

$3.77
Amazon
Kobo
Fantasy
The Bohr Maker
From a Nebula and Locus Award–winning author comes a "compelling story with a wealth of mind-bending ideas" (Booklist). When genetically engineered Nikko attempts to steal the Bohr Maker, he sets in motion a chain of events that could change the definition of humanity. "Phenomenal" (Analog).

$0.99

$5.99
Amazon
Kobo
Science Fiction
Fanny
In 18th-century England, a daring young woman goes on a life-changing journey full of colorful characters, wild escapades, and bawdy misadventures! "Entertaining… A prodigious work of fiction" (The New York Times Book Review) from the international bestselling author of Fear of Flying.

$1.99

$9.29
Amazon
Kobo
Literary Fiction
Shadows of the Past
Alva's seemingly perfect life takes a strange turn when an accident leaves her with no memory of her family or their home in Italy. Why does her husband seem to hate her? And why won't anyone on her idyllic island tell her what happened?

$0.99

$3.99
Amazon
Women's Fiction
A Work in Progress
Rebecca Avery has always been too quirky to be popular. Eric Barnett seems like the sort of person who could truly appreciate her, but he's interested in someone else. With God's help, will they discover how good they are together?

Free!

$5.03
Amazon
Kobo
Christian Fiction
The Widow of Larkspur Inn
When she attempts to save her family by turning a dilapidated inn into a profitable lodging house, struggling widow Julia Hollis encounters an eligible vicar. An inspirational Victorian love story with nearly 1,700 five-star Amazon reviews.

Free!

$6.99
Amazon
Kobo
Christian Fiction
The Writers
A fascinating compilation of stories about the world's most beloved authors. From little-known anecdotes about Agatha Christie to the adventures of Arthur Conan Doyle, this biographical treasure trove is sure to delight fans of these literary giants.

$1.99

$12.59
Amazon
Kobo
Biographies and Memoirs
Dirty Talk
From a New York Times bestselling author: When fate throws ex-lovers Jane and Luke back together, they agree to stay "just friends." But as their undeniable chemistry builds and old feelings resurface, will they find their happily ever after?

Free!

$5.03
Amazon
New Adult Romance
Chase
A "smart, saucy, and intensely insightful" romance (RT Book Reviews): Working deep undercover, former FBI agent Gabriel and his sexy ex-partner Nikki scour the streets for a malicious terrorist cell. But as their attraction grows red-hot, so does the danger…

$0.99

$5.99
Amazon
Kobo
Romantic Suspense
Tristan's Lyceum Wolves
A scorching tale from a USA Today bestselling author! Sexy alpha wolf shifter Tristan is thrust together with Kalli — a beautiful veterinarian with a troubling secret. Their passion knows no bounds, but as a shadowy enemy threatens Tristan's pack, will Kalli learn to trust him?

$1.99

$5.03
Amazon
Kobo
Paranormal Romance
Seducing Charlotte
Though the Marquess of Camryn is lusted after by many, Charlotte Livingston has no patience for the wealthy politician. But he's determined to win her heart in this passionate Regency romance!

$0.99

$3.77
Amazon
Kobo
Historical Romance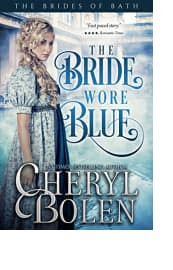 The Bride Wore Blue
Six years ago, noblewoman Felicity Harrison saved Thomas Moreland's life — and he never forgot it. Now back from making a fortune in India, he's determined to woo the lovely widow. Can she give true love a chance?

Free!

$6.29
Amazon
Kobo
Historical Romance
Patrick's Charm
A lush western romance: To avoid an unwanted marriage, famous actress Charm LaBelle travels in disguise and takes a job at former soldier Patrick O'Shea's saloon. Although love is the last thing on Charm's mind, her dashing employer has other plans…

$1.99

$3.99
Amazon
Kobo
American Historical Romance
Lust Is the Thorn
Former bad boy Thorn is in training to be a priest — but when he helps out his best friend's sister, Rose, he faces a temptation he can't resist… From a New York Timesbestselling author!

$0.99

$3.99
Amazon
Kobo
Erotic Romance
Quick on the Draw
A fast-paced western! After serving time for a crime he didn't commit, Glenister McCreedie thinks he's found a fresh start on the railroad. But instead, he finds himself facing killers, criminal gangs, and the most dangerous members of his own family…

$0.99

$2.99
Amazon
Action and Adventure
Dark Heart
A vicious serial killer meets his end — but one victim remains unaccounted for. Detective Charlie Cooper delays retirement to find the missing woman, but his only hope might come from the unlikeliest of sources: Eva Matthews, the recipient of the killer's heart…

Free!

$4.99
Amazon
Kobo
Thrillers
Silent Source
The latest serial killer to hit Atlanta has left the police a puzzle so intricate that they must turn to renowned forensic expert Damon Keane. But this vengeful criminal always seems to be a step ahead. Can Keane stop the attacks before he becomes the next target?

Free!

$3.93
Amazon
Thrillers
Orchard Grove
From a Shamus Award–winning author comes a tale that's "grisly, surprising, and page-turningly suspenseful" (Bookliststarred review): In quiet Orchard Grove, writer Ethan must survive the games, lies, and deceptions of the seductive killer next door…

$0.99

$9.51
Amazon
Kobo
Crime Fiction