All Note Long
Michelin's country music success depends on his ability to hide his sexuality from fans. But after meeting gorgeous dancer Lucky, Michelin will need to go to new lengths if he's to keep both his dream career — and the man of his dreams.

$0.99

$3.82
Amazon
Kobo
LGBT
Give Up, Gecko!
Tired of waiting for rain, the animals decide to dig for water. But soon every creature quits… except for one tiny gecko. Based on a Ugandan folktale, this "quirky ode to never giving up" (Booklist) is perfect for teaching little ones the power of perseverance!

$1.00

$5.35
Amazon
Children's
The Faerie Guardian
Violet's job is to protect humans from harmful magic, but things get complicated after Nate follows her into the fae realm. When they're drawn into a perilous plot, can they make it out alive? An enchanting tale with over 1,700 five-star ratings on Goodreads.

Free!

$3.99
Amazon
Kobo
Teen and Young Adult
Dark Hope
When Devil's assistant Claire is accused of murder, she starts her investigation in Purgatory. But instead of finding protection, she becomes the target of the most powerful family in the unearthly realms…

$0.99

$4.99
Amazon
Kobo
Supernatural Suspense
He Who Walks in Shadow
The man who guards the barrier into our world has gone missing. The Old Ones stand ready to return — spelling doom for all humankind… A vivid horror story that "skillfully blends high adventure and black magic against a backdrop of encroaching cosmic terror" (Laird Barron).

$1.32

$7.50
Amazon
Horror
Vibrations
Transported to the world of Gythe, Sam finds himself surrounded by fascinating new people and landscapes. But when he discovers a strange power, his return home transforms into a dangerous adventure…

$1.32

$3.77
Amazon
Kobo
Fantasy
Shader: First Trilogy
In this epic trilogy, plague ravages the land, the dead walk among the living, and an ancient evil from beyond the stars awakens. Luckily, Deacon Shader — the most lethal warrior of his generation — has been preparing for the storm…

$1.11

$10.07
Amazon
Kobo
Fantasy
Renaissance
Welcome to Palm Lakes Senior Community, an isolated retirement village full of colorful residents with complicated relationships and closets full of skeletons… A captivating story set against the backdrop of the Arizona desert.

$0.99

$5.03
Amazon
Kobo
Women's Fiction
The Secret of Pembrooke Park
From a Christy Award–winning author! When Abigail moves into an abandoned mansion in Regency England, she learns that unsettling secrets lurk behind its walls… "Deliciously spooky and sweetly romantic" (Booklist), with over 2,400 five-star ratings on Goodreads.

$1.99

$10.95
Amazon
Kobo
Christian Fiction
Jesus Talked to Me Today
Witness the special connection between God and children in this touching collection of anecdotes. These sweet tales of heavenly encounters, angels, and miracles will warm your heart and lift your spirit.

$0.99

$9.99
Amazon
Kobo
Christian Nonfiction
Slow Cooking for Two
With this must-have New York Times bestseller, you can let your slow cooker do the work! More than 100 delicious recipes will make it simple and easy to create hearty meals for two.

$2.99

$8.22
Amazon
Cooking
The Marcos Dynasty
A historian and journalist reveals the sordid criminal lives of Ferdinand and Imelda Marcos — who plunged their country into a maelstrom of crime and corruption and got away with it for decades. A "merciless account of the Filipino dictator's rise and fall" (Time).

$0.99

$4.99
Amazon
Biographies and Memoirs
To Have or to Be?
Modern living is often dominated by possessions: We rely on objects and tools rather than thinking, feeling, or even loving. A celebrated philosopher offers a stunning take on materialism — and how to avoid it. With over 1,900 five-star ratings on Goodreads!

$1.99

$9.99
Amazon
Kobo
General Nonfiction
The Gold Rush
A New York Times bestselling author chronicles a time of greed and economic upheaval: When gold was discovered in California in 1848, people from all over the country were lured west, determined to claim their fortunes.

$0.99

$12.59
Amazon
Kobo
History
Silver
Dreaming of dazzling wealth, Henry seeks his destiny in the silver mines of Colorado. But is any fortune worth betraying the woman he loves? A gripping historical epic from an Edgar Award–winning author!

$0.99

$3.99
Amazon
Historical Fiction
Hail Mary
A hilarious, white-hot romance with over 850 five-star Goodreads ratings: Football star Jimmy is astonished when Mary accidentally knocks him out — and she doesn't even know who he is! As their relationship heats up, has Jimmy scored more than he can handle?

$0.99

$3.77
Amazon
New Adult Romance
Blissfully Married
From a New York Times bestselling author: Matchmaker Sidney pretends to be engaged to help her business. But when Blake — who broke her heart years ago — strolls back into her life and discovers her lies, can he find a way to win her over?

Free!

$5.03
Amazon
New Adult Romance
All for a Rose
In this passionate reimagining of Beauty and the Beast, Maribel dreams of freedom — but falls into the grip of Daman, a tormented dragon lord. Can the bewitching belle tame his violent temper and capture his wild heart?

$1.99

$5.03
Amazon
Kobo
Paranormal Romance
His Wicked Heart
Desperate for money, seamstress Olivia makes a scandalous deal with Jasper, the roguish Earl of Saxton — only to have him steal her heart… A steamy and entertaining Regency novel!

$0.99

$4.99
Kobo
Historical Romance
Always Have Hope
Falsely accused of killing her husband, Lady Winifred Pierce faces the gallows. Barrister Alexander Lewis has been ordered to prove her guilty — but their passionate connection will challenge him like never before…

Free!

$5.03
Amazon
Historical Romance
Possess
Powerful, aloof Maxim always kept everyone at a distance — until Sienna came into his possession. Can he resist his feelings while protecting her from harm?

Free!

$5.03
Amazon
Kobo
Dark Romance & Erotica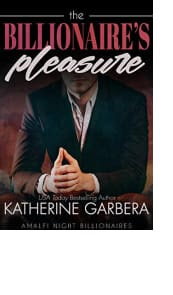 The Billionaire's Pleasure
Steffi has been her boss's assistant for years — but she never expected to be assigned to keep his billionaire brother out of trouble! Will handsome, wealthy Rocco drag Steffi off the straight and narrow? A steamy romance from a USA Today bestselling author.

Free!

$3.77
Amazon
Kobo
Contemporary Romance
The Road to Reckoning
1837: When a brutal act orphans young Thomas Walker, the boy is left stranded alone in the wild. Tom finds protection with ex-ranger Henry Stands, who teaches him about family, courage… and vengeance. "Great stuff" (Library Journal) for fans of Cormac McCarthy and True Grit.

$1.99

$11.99
Amazon
Kobo
Action and Adventure
Crosshairs
When an assassin plants a bomb on a bus moving through Southampton, detectives Mercure and Davies are thrown into a desperate race against the clock. Can they identify which passenger holds the detonator — before time runs out?

$0.99

$3.99
Amazon
Thrillers
Either Side of Midnight
Naomi's wedding is supposed to be the best day of her life — until she's kidnapped. She wakes up trapped in a secluded cottage, with no idea who put her there or what they want from her…

Free!

$3.77
Amazon
Crime Fiction
Murder at the Mansion
Reverend Annabelle Dixon's bid to welcome her newest parishioner goes awry when she stops by Sir John Cartwright's manor — only to discover his corpse! Set in a picturesque Cornish village, this delightful cozy mystery includes plenty of delicious recipes.

Free!

$3.77
Amazon
Kobo
Cozy Mysteries
Pretty Girls
"One of the boldest thriller writers working today" (Tess Gerritsen) delivers a breathless New York Timesbestseller: After their sister disappears, Claire and Lydia go their separate ways. Twenty years later, a grisly murder may expose the secrets of their past… "Stunning" (Lee Child).

$1.99

$11.99
Amazon
Kobo
Bestsellers, Crime Fiction, Thrillers