Sweeter Than Sunshine
With her heart in shambles and her beloved ice cream parlor falling apart, Mary Harris is just about ready to give up. But will the charming single dad next door have her second-guessing everything? A warm, buoyant read!

$0.99

$3.99
Amazon
Chick Lit
The Parent–Child Dance
Learn how to take the lead in the complicated dance between parent and child! This unique, insightful manual will help you effect positive change and bring stability and harmony into your kid's life.

$2.99

$18.14
Amazon
Parenting
Anne Perry: The Murder of the Century
In 1954, Juliet Hulme and Pauline Parker committed a crime that sent shock waves around the world and left many wondering about their motives. One of those girls would go on to become an award-winning mystery author. "Eye-opening" (Library Journal).

$2.99

$16.19
Amazon
True Crime
The Tattered Gloves
From a USA Today bestselling author comes an achingly beautiful story: After enduring years of parental abuse, Willow moves to a small town to live with her estranged aunt. Can she find the courage to open herself up to new beginnings — and the possibility of real love?

$0.99

$5.03
Amazon
Kobo
Teen and Young Adult
Sands
When serpentine monsters attack her desert home, Lhaurel defends herself with weapons — and is sentenced to death by her clan. Saved by a rival tribe, Lhaurel will soon discover her true powers as the fate of her people hangs in the balance.

$0.99

$6.29
Amazon
Fantasy
Bones of the Earth
A Hugo Award nominee from "one of science fiction's very best writers" (Nancy Kress): When a stranger appears in paleontologist Richard Leyster's office with the head of a stegosaurus — and an offer to travel back in time — their meeting may have dire consequences for humanity. "Terrific" (Greg Bear).

$1.99

$7.69
Amazon
Kobo
Science Fiction
Sit, Stay, Love
Cal, an irritable baseball star, is far from the man of Gina's dreams. But when he inherits an aging dog named Tippy, Gina finds herself unexpectedly falling in love. A fun-filled, inspirational romance!

$1.32

$9.99
Amazon
Kobo
Christian Fiction
A Common Ground
Despite their differences, the world's great religions share many timeless ideas. This collection of parables from Buddhism, Christianity, Islam, Judaism, and other faiths will inspire readers who want to deepen their spiritual lives.

$2.99

$32.99
Amazon
Religion and Spirituality
Diabetic Cookbook for Two
A diabetes diagnosis doesn't have to mean resigning yourself or a loved one to a lifetime of flavorless meals. These 125 delicious, healthy recipes — complete with nutritional information — will impress anyone, regardless of dietary restrictions.

$0.99

$3.85
Amazon
Cooking
The Romanovs
An engrossing account: This portrait of one of the most enigmatic families in history details the Romanovs' excesses, secrets, and violent end. "Recounted at great speed and with splendid life, vigor, and readability" (Evening Standard).

$0.99

$5.05
Amazon
Biographies and Memoirs
Free State of Jones and the Echo of the Black Horn
In Civil War–era Mississippi, Captain Newt Knight took over a town and created a groundbreaking mixed-race community. Featuring perspectives from two of Knight's descendants, this gripping history reveals his life and lasting impact. Now a major motion picture!

$2.99

$11.13
Amazon
History
Bold
Learn to harness the power of charisma! The tips and tricks in this Wall Street Journal bestseller will help you become a master of conversation and leave an impression on everyone you meet.

$0.99

$4.99
Amazon
Advice and How-To
Somewhere in France
For fans of Downton Abbey: Stifled by social expectations, Lady Elizabeth volunteers as an ambulance driver on the western front. There she finds love amid the carnage — but will her hopes melt away in the crucible of war?

$1.99

$11.99
Amazon
Kobo
Historical Fiction
Colton
Army Ranger Colton Hawkins is determined to find a wife — and Karena Harper is looking for a change. Are either of them ready for the unpredictable adventure of a modern-day marriage of convenience? A delectable romance!

Free!

$0.99
Amazon
Kobo
New Adult Romance
SEALs of Honor: Mason
After losing her brother, Tesla creates a lifesaving program and swears that she won't get close to a military man ever again. But when others come after her project, she'll need the help of elite Navy SEAL Mason. A pulse-pounding romantic suspense novel!

Free!

$1.25
Amazon
Kobo
Romantic Suspense
The Star Princess
As a prince, Ché Vedla dutifully awaits an arranged marriage. But while on a trip to Earth, he falls for beautiful, feisty Ilana. Can these two opposites write their own destiny?

Free!

$6.53
Amazon
Kobo
Paranormal Romance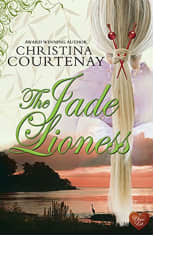 The Jade Lioness
Longing to escape England, Temperance disguises herself as a boy and takes a position with the Dutch East India Company in Japan. When a samurai catches her swimming one day, their chemistry is undeniable…

$0.99

$3.99
Amazon
Kobo
Historical Romance
Loki
A breathtaking historical romance: As a boy, Loki was living in a crate when his adoptive parents found him. As a man, he calls the Highlands home — but he must uncover the truth about his past if he's to marry beautiful Arabella… With over 100 five-star reviews on Amazon!

Free!

$2.99
Amazon
Historical Romance
Star Dust
When Anne-Marie moves to Houston, she can't deny her attraction to Kit, the fast-living astronaut next door. But when the space race collides with their desires, can their unlikely love achieve liftoff?

Free!

$3.99
Amazon
Kobo
American Historical Romance
Passionate Bid
After taking her virginity, Julian marries Joanie out of obligation, only to abandon her the next day. When he asks for a divorce years later, he rediscovers his irresistible attraction to her…

$0.99

$4.52
Amazon
Kobo
Erotic Romance
The Masquerading Groom
When Sayla Jones is set up as the fake date of billionaire movie star Sterling Pennington, she's clear that nothing unprofessional will happen between them. But after spending time together, will they be ready for more?

$1.32

$3.77
Amazon
Contemporary Romance
Stripping the Billionaire
Mandy becomes friends with her next-door neighbor Ben — who has successfully hidden the fact that he's the heir to a corporate empire. But when Mandy accompanies him to his mother's house, the truth is bound to come out…

Free!

$5.03
Amazon
Kobo
Contemporary Romance
Maximum Guilt
Detective David Porter is after a heinous criminal: a serial killer who leaves behind a trail of disfigured bodies. And when David's own daughter goes missing, he'll have to use all of his skills in the highest-stakes chase of his life.

$0.99

$3.77
Amazon
Kobo
Thrillers
Malevolent
From a New York Times bestselling author: PI Shaye Archer takes on the baffling case of Emma Frederick, a woman convinced that her abusive husband is out to get her. Except Emma killed her husband years ago… With over 700 five-star Amazon reviews.

Free!

$7.55
Amazon
Kobo
Crime Fiction
The Stone House Secret
When she's assigned to cover a murder, reporter Jenessa Jones jumps at the chance — until her aunt becomes the prime suspect. Jenessa must enlist the help of her detective boyfriend, Michael, to clear her aunt's name… and stop the killer from making Jenessa his next victim.

$0.99

$5.03
Amazon
Kobo
Cozy Mysteries