A Sudden Crush
Joanna Price is about to start her dream life with a tropical honeymoon, until her plane crashes on a deserted island. With only her annoying seat partner for company, will she be able to survive long enough to go back to her picture-perfect life?

$1.99

$4.99
Amazon
Kobo
Chick Lit
My Ladybird Story
"An inspiring, empowering chronicle of self-discovery and fearless pride" (Kirkus Reviews). John has always felt different from everyone else. After meeting confident Aureus, he starts to question who he's really meant to be — and starts the process of transitioning into Joyce.

$1.99

$5.03
Amazon
Kobo
LGBT
A Month of Bedtime Stories
Meet an alien, drive a submarine, or travel through time! This madcap collection of 31 tales will prove there's no better way to end the night than with a bedtime story — no matter how old you are. For fans of Sideways Stories from Wayside School.

$0.99

$3.77
Amazon
Kobo
Middle Grade
Blest
When Jim meets Claire, the beautiful new girl in town, he thinks he's finally found someone just like him… but he couldn't be more wrong. He and Claire are on opposite sides of an ancient celestial war that threatens to tear them apart.

$1.50

$5.03
Amazon
Teen and Young Adult
Raven and Skull
Six otherworldly harbingers of horror gather at a pub to share their twisted tales… A dizzying web of interconnected stories featuring all things terrifying and macabre.

$0.99

$3.76
Amazon
Kobo
Horror
A Different Kingdom
Michael knows that the woods near his grandparents' farm are home to wolves and stranger creatures. But when he discovers the Other Place, he'll journey even deeper into a dangerous, captivating world…

$0.99

$3.14
Amazon
Kobo
Fantasy
Summer in the South
From a USA Today bestselling author: While spending a summer at her friend's ancestral estate in Tennessee, Ava uncovers the rumors, feuds, and dark secrets of the wealthy and eccentric Woodburn clan. "A carefully fitted nesting doll containing the secrets of one Southern family" (Publishers Weekly).

$1.99

$10.07
Amazon
Kobo
Women's Fiction
Love's Rescue
When Elizabeth returns home to Key West, she rekindles her love for the man she hoped to forget… But family secrets force her to choose between her duty and her heart in this faith-filled historical novel!

Free!

$9.99
Amazon
Kobo
Christian Fiction
The Big Secret for the Small Investor
From the New York Times bestselling author of The Little Book That Beats the Market: Demystify the stock market with this invaluable handbook. A clear, concise guide perfect for both individual and professional investors looking to attain long-term success.

$1.99

$11.99
Amazon
Kobo
Business
One Perfect Day
"Brilliantly written and beautifully real" (New York Timesbestselling author Roxanne St. Claire): In this moving memoir, Diane Burke reunites with the son she gave up for adoption — and revisits the heartbreaking decision she made more than 40 years ago.

$1.99

$17.25
Amazon
Kobo
Biographies and Memoirs
Yoga Body & Mind Handbook
If you're looking to relieve stress, build inner peace, and improve your well-being, yoga could be your answer! Get started today with this accessible guide full of beginner-friendly poses and meditation practices you can do anywhere.

$2.61

$7.48
Amazon
Kobo
Advice and How-To
Disaster at Roosevelt Ranch
After a passionate one-night stand, Kelly winds up with a broken heart... and a baby on the way. But when Rex — the baby's father — and Rex's twin brother both fall for her, will she find true love at last?

$0.99

$3.77
Amazon
Kobo
New Adult Romance
Two-Hour Truce
From a bestselling author: Once best friends, Aria and Tristan can't stand each other — but they also can't deny their off-the-charts chemistry. They agree to spend two hours a week giving in to their desires, with no strings attached. But what happens when it isn't enough?

Free!

$6.29
Amazon
Kobo
New Adult Romance
Chasing Shadows
From a New York Times bestselling author who delivers "haunting suspense, tender romance" (Tess Gerritsen): When a grisly investigation brings lawyer Nick and forensic psychologist Claire together, they'll find that their attraction is more than they bargained for…

$0.99

$5.99
Amazon
Kobo
Romantic Suspense
Fright Court
From an award-winning author: Sarah is thrilled about her job as a clerk for the Night Court — until an undead defendant attacks her. When her mysterious, sexy vampire boss, James, starts giving her self-defense lessons, will she fall for him in a moment of human weakness?

$1.32

$3.77
Amazon
Kobo
Paranormal Romance
A Whisper of Rosemary
Spirited Maris tends her father's estate, and she's none too pleased when he promises away her hand in marriage. When lowly knight Dirick arrives on a mission for the king, Maris mistakes him for her intended, and sparks fly…

Free!

$6.99
Amazon
Historical Romance
A Bargain Struck
Widower Connor Maguire needs a wife — and Ellen O'Sullivan is desperate for a family. But when Ellen responds to Connor's advertisement, she isn't entirely truthful… A "unique and subtly observed" (RT Book Reviews) historical romance.

$0.99

$3.99
Amazon
Kobo
American Historical Romance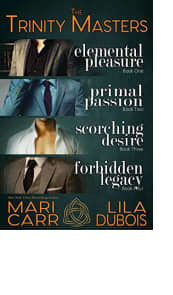 The Trinity Masters: Books 1–4
In this red-hot collection of erotic romances, an exclusive secret society requires every woman to enter into a marriage with two men. Follow along on these steamy ménage nights with successful moguls and billionaire playboys!

$2.99

$8.81
Amazon
Kobo
Erotic Romance
Royally Screwed
From a New York Times bestselling author: Nick, Prince of Wessco, is used to getting whatever he wants — until he falls madly in love with commoner Olivia. "The most sexy, funny, irreverent, delicious love story on my shelf" (Katy Evans).

$1.32

$6.63
Amazon
Kobo
Contemporary Romance
True Colors
Emma and Max are complete opposites: She's struggling to make ends meet, and he's a no-nonsense millionaire. But when they both wind up in the same small town, they might discover they're the perfect match!

Free!

$5.03
Amazon
Kobo
Contemporary Romance
Spectre Rising
Wounded veteran Cal "Spectre" Martin doubts he'll ever fly an F-16 jet again. But when his fiancée — also a pilot — goes missing on a disastrous mission, Spectre will be forced to take to the skies to face a dangerous national threat.

$1.99

$3.77
Amazon
Kobo
Action and Adventure
To Kill For
Jamie McKay has a perfect life, thanks to her wonderful fiancé and wealthy family. But when a sudden death throws her world into turmoil, Jamie disappears — leaving a trail of dark secrets in her wake. An engrossing read with over 300 five-star Amazon reviews.

Free!

$3.77
Amazon
Kobo
Thrillers
Game of Shadows
When a terrorist cell tries to recover a devastating Nazi weapon hidden during World War II, former government agent Sean Wyatt embarks on an impossible mission to neutralize the danger — before these master criminals can unleash worldwide havoc.

Free!

$3.99
Amazon
Kobo
Thrillers
The Fisher King
"A fast-moving whodunit" (Booklist): In a small Texas town, new police chief Jack McBride discovers he has a target on his back when he investigates a horrifying wave of murders. A "gritty and gripping" read (Deborah Crombie).

$1.99

$22.99
Amazon
Kobo
Crime Fiction
Captive
A dead woman whose body shows signs of extended captivity is found on an isolated road. Detectives Jade Monroe and Jack Steele hunt for clues — but can the duo keep up when more victims start disappearing? A heart-stopping police procedural.

$1.99

$6.29
Amazon
Kobo
Crime Fiction
No Kiss Goodbye
The accident that put Laura in a hospital has turned her memories into a fog. With her husband acting cagey and her kids kept away from her, she's forced to piece together the dark gaps in her recollections alone. But is she ready for what she discovers?

Free!

$3.77
Amazon
Psychological Thrillers