To Follow My Heart
Heartbroken after her engagement is called off, Jenna Sinclair is suddenly thrown 800 years into the past to appear before chiseled Fletcher Monroe. Can Jenna find a new life — and love — with the irresistible knight from another time?

$1.99

$5.03
Amazon
Kobo
Time Travel Romance
Awful by Comparison
Jennifer's life is falling apart, and her perfect fashion model sister Lara makes things worse by announcing her glamorous Manhattan wedding. But when things take a drastic turn, can Jennifer find happiness after all?

$0.99

$3.99
Amazon
Chick Lit
Inevitable Conclusions
A heartfelt romance full of twists and turns! Kora and Tariq keep finding themselves in each other's arms. As they face life's struggles together, will these best friends take a chance on true love?

$1.32

$5.03
Amazon
African American Interest
The Phantom Virus
From a USA Today bestselling author comes a must-read adventure: With glitches ravaging the world of Minecraft, Gameknight must uncover the truth behind a plague of deadly pranks.

$2.99

$12.99
Amazon
Middle Grade
Akarnae
A spellbinding blend of Harry Potter and X-Men: After a door leads Alex into an extraordinary new land, she attends a boarding school for students with magical gifts. But when a sinister darkness puts the fate of worlds on her shoulders, how much is she willing to sacrifice?

$0.99

$8.81
Amazon
Kobo
Teen and Young Adult
Rogue
From a New York Times bestselling author comes an enthralling fantasy! Caught in a deadly struggle between dragons and slayers, Ember risks everything to rescue the boy who saved her life… With over 2,100 five-star ratings on Goodreads.

$1.99

$8.49
Amazon
Kobo
Teen and Young Adult
Flesh and Stone
When Alastair Stone needs a change of scenery, he winds up in a city plagued by a gang of killer cannibals, a secret society, and a horde of supernatural terrors — all of which may only be distractions from a much greater threat looming on the horizon…

$1.99

$5.99
Amazon
Kobo
Supernatural Suspense
I Have No Mouth and I Must Scream
From a Hugo Award–winning master of the strange, the frightening, and the incredible comes a classic collection. These unforgettable stories continue to enthrall readers decades later. With 3,600 five-star ratings on Goodreads.

$1.99

$9.29
Amazon
Kobo
Horror
End of Days: The Complete Trilogy
Framed for crimes against Heaven, Archangel Michaela loses her wings and her position as a general. Now she must prove her innocence — but as rogue angels gain control, could the End of Days be at hand?

$1.99

$7.55
Amazon
Kobo
Fantasy
White Seed
Thousands of years after humanity seeded the stars, pilot Kali embarks on an ambitious journey. But when she arrives on the turbulent, near-empty planet of Keto, she finds herself in unthinkable peril…

$0.99

$3.99
Amazon
Kobo
Science Fiction
Wish Come True
From a USA Today bestselling author hailed as "a master storyteller" (Susan Wiggs): When struggling single mother Kate wins the lottery, she becomes a millionaire overnight. But will her newfound wealth create more problems than it solves?

Free!

$5.03
Amazon
Women's Fiction
Drops of Gold
From a USA Today bestselling author: Destitute and alone, Mary becomes the governess of a quiet, dreary household. As she brings the home to life with her joy and faith, she'll inadvertently capture the heart of handsome widower Layton. With over 1,800 five-star ratings on Goodreads!

$2.66

$13.36
Amazon
Christian Fiction
A Bride for Keeps
Everett Cline has already been abandoned by three mail-order brides by the time beautiful Julia Lockwood arrives in town. Can Everett and Julia trust in God and let love into their lives?

$0.99

$3.27
Amazon
Christian Fiction
Knowing Christ
Focus on Christ with this profound look at modern spirituality from a celebrated theologian. An engaging tour through Christian tradition sure to stimulate your heart and imagination.

$1.99

$13.99
Amazon
Kobo
Christian Nonfiction
Unshaken
Even in times of uncertainty and stress, an intimate relationship with God gives you the strength to thrive! Discover the keys to personal resilience in "a heaven-sent word of encouragement" (New York Times bestselling author Joel Richardson).

Free!

$21.45
Amazon
Kobo
Christian Nonfiction
Healthy Slow Cooker Cookbook
The slow cooker can help you save time in the kitchen — but did you know that it's also a great way to eat healthier? This collection of easy recipes offers nutritious twists on classic comfort foods too good to resist!

$1.32

$5.54
Amazon
Cooking
The Unquiet Daughter
"Ferociously honest and gorgeously written" (New York Times bestselling author Caroline Leavitt): Danielle Flood seeks the truth behind her parents' famous story in this "powerful" memoir (Publishers Weekly) — a revealing glimpse into the tangled affair that inspired Graham Greene's The Quiet American.

$2.99

$11.33
Amazon
Kobo
Biographies and Memoirs
A Short History of the World
A New York Times bestseller: Brush up on your worldly knowledge with a comprehensive synopsis of everything from the Big Bang to modern-day civilization! This simple introduction to global history is "highly recommended" (New York Times bestselling author Dan Jones).

$1.99

$9.99
Amazon
Kobo
History
Young Jefferson
Explore the early life of the third President of the United States with this fascinating book. Young Jefferson's achievements and tragedies come alive in this illuminating portrait by a New York Times bestselling author.

$0.99

$12.59
Amazon
Kobo
History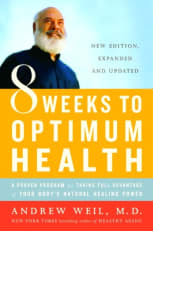 8 Weeks to Optimum Health
Boost your body's self-healing powers! This #1 New York Times bestseller from health guru Andrew Weil provides an extensive program to improve your overall well-being. With expert guidance on diet, exercise, sleep, and more.

$1.99

$13.85
Amazon
Kobo
Advice and How-To
Loving Summer
Since childhood, Summer has loved the annual beach vacations with her friends — but this year, everything's changed. When her best friend's handsome brothers both fall for her, how can she choose who deserves her heart? A sexy, heartfelt read!

$1.99

$3.99
Amazon
New Adult Romance
3:AM Kisses
From a New York Times bestselling author who writes "easy, frothy fun" (Cosmopolitan): Innocent Baya may be off-limits to playboy Bryson, but forbidden fruit has never tasted so sweet… With over 3,000 five-star ratings on Goodreads!

Free!

$6.29
Amazon
Kobo
New Adult Romance
Stolen by the Laird
A steamy medieval romance from a USA Today bestselling author: Laird Brody Keith sets out to seize a castle from the English — but when he encounters the enchanting Lady Guinevere, his mission gets more complicated…

$1.99

$6.29
Amazon
Kobo
Historical Romance
Crimes of the Brothers
After her brother ruins her reputation, Catherine unexpectedly inherits a fortune. She soon begins to fall for Sir Philip, the local magistrate — but can she trust him with her heart?

Free!

$3.77
Amazon
Historical Romance
A Life Less Broken
From a New York Times bestselling author: After an unspeakable trauma, Allyn Sommers is full of fear. Dr. Dominic Shriver is determined to help her heal, but first he must face his own demons…

$0.99

$5.03
Amazon
Dark Romance & Erotica
Nashville Heat
When Sydney meets bad boy Dex, she can't deny their chemistry… A searing tale with "some of the most arousing sex scenes you'll ever read" (RT Book Reviews).

Free!

$0.99
Amazon
Kobo
Erotic Romance
Country Heaven
From a USA Today bestselling author: Scandalous Rye Crenshaw needs a wholesome girl to clean up his image — and sweet diner cook Tory Simmons fits the bill. But as they spend more time together, he realizes she's impossible to resist… With over 1,000 five-star reviews on Amazon!

Free!

$6.99
Amazon
Kobo
Contemporary Romance
Rendezvous Series Box Set: Books 1–3
When would-be explorer Sam heads west in 1822, he begins an unforgettable journey that will test his mind, body, and spirit… A New York Times bestselling, Spur Award–winning author delivers an "epic saga of life in the early West" (Tony Hillerman) in this riveting three-book set!

Free!

$12.59
Amazon
Action and Adventure
Lock the Door
While Meghan Smith is out celebrating her wedding anniversary, her infant son disappears. As the investigation takes a dark turn, her life — and her sanity — will spiral out of control. "Wraps you in a blanket of mistrust and unease… thrilling" (USA Today bestselling author Sue Fortin).

$1.99

$5.03
Amazon
Thrillers
Cold Water
John Denson, a former government spook, just wants to go fishing… But when a girl's dead body surfaces in an Oregon river, he's sucked into an investigation that could put him in a killer's crosshairs.

$0.99

$3.99
Amazon
Thrillers
Death Turns a Trick
This "funny and witty" mystery (Library Journal) from an Edgar Award–winning author follows Rebecca Schwartz, a Bay Area lawyer who juggles love and danger when she discovers a dead escort in her home.

Free!

$5.03
Amazon
Cozy Mysteries
Forget Me Not
From a beloved #1 New York Times bestselling author: Lucy hasn't spoken to her parents much since they moved away. When they die in an accident, she goes to their Florida home — where she discovers that there are many things they never told her…

$1.99

$6.99
Amazon
Kobo
Bestsellers, Women's Fiction