Imago
Introverted Lawson Gale has dedicated his life to the study of butterflies. But his quiet routine is shaken up when he meets Jack Brighton, an Australian Parks and Wildlife officer who sets his heart aflutter! A captivating romance with over 550 five-star Goodreads ratings.

$1.32

$3.92
Amazon
LGBT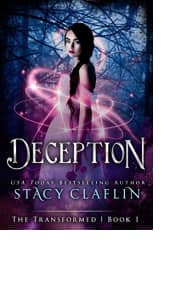 Deception
From a USA Today bestselling author: After encountering a handsome stranger, Alexis develops a set of mysterious abilities. But in the face of an ancient evil, can she embrace her destiny — and learn to trust in herself?

Free!

$5.03
Amazon
Kobo
Teen and Young Adult
The Dead Won't Die
A heart-pounding read from a Bram Stoker Award–winning author: In a world overrun by horrors, three survivors seek sanctuary in a research facility off the coast of Texas. But a nightmare follows close in their wake…

$1.99

$5.11
Amazon
Kobo
Horror
One Last Wish
After receiving news of their daughter Emmie's terminal illness, Rosie and Nate feel their once-perfect marriage crumbling. Meanwhile, Emmie sets out to remind them of the love they once shared. A beautiful, heartrending read.

$0.99

$3.03
Amazon
Kobo
Women's Fiction
What Once Was Lost
"Engaging… brimming with characters who are bold in their faith" (Booklist): After an unexpected disaster, the lives of three inhabitants of a rural town will intersect — and change forever. A "heartwarming and gripping" read (New York Times bestselling author Cindy Woodsmall) about love, loss, and faith.

$1.99

$14.99
Amazon
Kobo
Christian Fiction
The Renovation
Widower and single father Ethan is an expert in restoring old houses — but when delightful Cameron comes along, can he also rebuild his love life? "Enjoyable… Will please Christian romance enthusiasts" (Publishers Weekly).

$1.23

$9.99
Amazon
Kobo
Christian Fiction
Waiting on God
Why does God make us wait? This moving book uses the Old Testament story of Joseph to provide a comforting perspective on the reality of His promises and help you understand the Lord's plan.

$0.99

$16.00
Amazon
Kobo
Christian Nonfiction
The Whole Coconut Cookbook
Coconut is the ultimate ingredient — healthful, adaptable, and delicious! Discover its wonders with this dazzling collection of recipes for main courses, salads, desserts, and more.

$1.99

$12.99
Amazon
Kobo
Cooking
Spymistress
As a master intelligence agent for the Allies, Vera Atkins led a relentless covert campaign against Nazi Germany. Decades later, her story comes to life in a biography "every bit as fascinating and shot through with ambiguity as a spy novel" (Salon).

$1.99

$19.99
Amazon
Kobo
History
Oscar Wilde's Last Stand
"Sensational" (Kirkus Reviews): In 1918, a member of Parliament spread slanderous accusations about an actress starring in Oscar Wilde's racy Salomé — sparking a legal battle and a moral conflict that would echo through time. "A shocking tale of heroes and villains… illuminating" (Sir Ian McKellen).

$2.99

$20.99
Amazon
Kobo
History
Seducing Fortune
Intent on making a new life for herself, former stripper Emerson holds three jobs while attending school. Her boss Dylan is the last person she should get involved with — but their chemistry is undeniable.

Free!

$3.77
Amazon
New Adult Romance
The Key
When Sara crash-lands on a deserted planet, she encounters Kiernan — a tall, muscular alien who makes her virgin body tremble… A white-hot romance sure to entice!

$0.99

$7.55
Amazon
Kobo
Paranormal Romance
The Warrior's Game
Lady Amica is a ward of the king, so when he promises her hand in marriage to his favored knight, she has no choice but to accept! Though they come from different worlds, can the noblewoman and knighted commoner come to a truce — and share their hearts?

Free!

$5.03
Amazon
Historical Romance
Giving It All
"A great read by the talented Barth" (RT Book Reviews): Stranded in the Caribbean, wealthy Logan has a fling with his high school crush, Brooke. But when they meet again, they realize their no-strings-attached affair might've been the start of something worth sticking around for…

$0.99

$5.03
Amazon
Kobo
Contemporary Romance
A Summer Grooms Selection: Books 1–3
From a New York Times bestselling author comes a collection of charming romances perfect for a sunny afternoon. From childhood sweethearts who find each other again to an adorable meet-cute set in the wilderness, these stories will touch your heart.

Free!

$6.99
Amazon
Kobo
Contemporary Romance
High Lonesome
From "one of the world's most popular writers" (The New York Times): Once friends, outlaw Considine and sheriff Pete are now bitter enemies. As Considine schemes to rob a bank under Pete's jurisdiction, an unexpected encounter could throw his careful plans into disarray…

$0.99

$7.55
Amazon
Kobo
Action and Adventure
Wasted Justice
From a USA Today bestselling author whose work is "full of thrills and tension" (Lee Child): Determined to exonerate a woman accused of murder, federal judge Willa Carson digs up secrets that have been buried for decades — and learns that friends and politicians alike will do anything to keep the case closed.

$0.99

$7.55
Amazon
Kobo
Thrillers
Once Gone
Special Agent Riley Paige becomes obsessed with catching a vicious serial killer — and uncovers a mind more deadly than she ever imagined… Don't miss this heart-stopping novel with over 2,900 five-star ratings on Goodreads!

Free!

$0.99
Amazon
Kobo
Crime Fiction
Folly
Is the chilling presence that lurks in Rae Newborn's crumbling house real — or is it all just in her head? A New York Times bestselling, Edgar Award–winning author offers "a labyrinthine tale that is as haunting as it is touching" (People). With more than 1,000 five-star ratings on Goodreads.

$1.99

$15.11
Amazon
Kobo
Psychological Thrillers
Murder on the Tor
When a sudden murder brings chaos to a quiet seaside community, Libby Forest makes it her mission to find the culprit. With a huge sheepdog as her companion and the help of some quirky townsfolk, Libby searches for the truth in this charming mystery!

Free!

$3.99
Amazon
Cozy Mysteries