Little Swan
A young swan has much to learn before he migrates for the first time — but will a giant bear keep him from spreading his wings? A "lyrical text" illustrated with "stunning paintings" (Booklist) sure to delight children.

$1.00

$5.03
Amazon
Children's
Cinderella and the Colonel
An enchanting twist on a classic fairy tale: Cinderella has a daring plan to save her homeland — and the dashing Colonel Friedrich is determined to help. But can Cinderella trust a man who works for the kingdom's cruel queen? With over 800 five-star ratings on Goodreads!

Free!

$3.99
Amazon
Teen and Young Adult
Darkest Journey
A New York Times bestseller from a "talented author" (Charlaine Harris): Charlie's trip back to her hometown takes an unexpected turn when two Civil War reenactors are murdered — and her father becomes the prime suspect. A thrilling mystery with a supernatural twist!

$1.99

$6.99
Amazon
Kobo
Supernatural Suspense
Darkbound
On an ordinary day, six New Yorkers board a subway — one that takes its passengers into the heart of their worst nightmares. The morning commute is about to experience an unexpected delay…

$0.99

$6.29
Amazon
Kobo
Horror
Ashael Rising
The Zanthar survive by taking the life force of others, but they must destroy Ashael — a woman prophesied to defeat them. When they send slave Iwan to spy on Ashael, she feels an inexplicable strength awaken inside her…

$0.99

$4.99
Amazon
Fantasy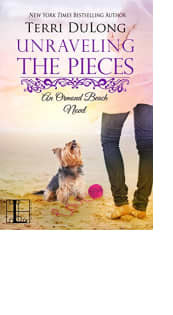 Unraveling the Pieces
From an author whose books are "perfect for those who love knitting as well as the bonds between women" (RT Book Reviews): After her mother's death, Petra escapes to Ormond Beach to stay with her yarn shop friends. But will secrets from her past prevent her from finding happiness?

$0.99

$3.09
Amazon
Kobo
Women's Fiction
Final Witness
Law clerk and devoted Christian Rachel has just been handed a major career opportunity. But when a key witness is found dead, Rachel will have to fight for justice with everything she has. A Christy Award–winning legal thriller!

$0.99

$4.87
Amazon
Kobo
Christian Fiction
Real Messages from Heaven
This inspirational collection is filled with firsthand accounts of after-death experiences. Let these miraculous stories illuminate the many ways God can answer your prayers and send you hope.

Free!

$9.99
Amazon
Christian Nonfiction
The Hypothyroidism Diet Plan
The right diet can reduce the symptoms of hypothyroidism. This essential cookbook has everything you need to help combat inflammation and strengthen your immune system. Featuring over 100 delicious recipes and a 31-day meal plan!

$2.99

$9.99
Amazon
Cooking
What the CEO Wants You to Know
From a New York Times bestselling author comes a "book that should be read by everyone" (Jac Nasser, former president of Ford Motor Company): Learn how to develop the instincts of a great CEO using these savvy insights into truly successful businesses.

$1.99

$14.99
Amazon
Kobo
Business
Living Hell
During World War II, British expat Isla Corfield and her daughter were incarcerated at the Santo Tomas Internment Camp, the largest prison camp in the Philippines. This harrowing memoir based on Isla's diaries tells an incredible story of bravery in unthinkable circumstances.

$0.99

$3.99
Amazon
Biographies and Memoirs
The Last Days of Richard III
Explore the final moments and mysterious death of notorious King Richard III, from the pivotal Battle of Bosworth Field to the recent use of DNA profiling to identify his remains. An "essential read" with "new details and perspectives about Richard's last days" (Library Journal).

$1.32

$18.64
Amazon
Kobo
History
Agony and Eloquence
Together, John Adams and Thomas Jefferson played a pivotal role in shaping their country's future. This thought-provoking New York Times bestseller takes a fresh look at their turbulent, often troubled friendship and its impact in a time of revolution.

$2.99

$36.99
Amazon
History
The Perfect Stroke
From a USA Today bestselling author: After a scorching one-night stand, CC never expected to see Gray again — but fate has other ideas… With over 1,200 five-star ratings on Goodreads!

Free!

$3.77
Kobo
New Adult Romance
Stripped Bounty
"A deliciously emotional roller coaster ride" (New York Times bestselling author Megan Hart): When a killer from Rosie's past returns to haunt her, can security officer Badger protect the woman he's determined to claim as his own?

$0.99

$6.29
Amazon
Kobo
Romantic Suspense
Marquess of Fortune
When Lily meets a handsome stranger in the woods, she drags him home to help save her sister — only to lose her heart along the way… A breathtaking offering from a USA Today bestselling author!

$0.99

$4.99
Amazon
Kobo
Historical Romance
The Governess Affair
An addictive love story with over 2,700 five-star ratings on Goodreads! Governess Serena Barton must win the favor of ruthless Hugo Marshall if she is to secure her future. "A battle of wills with the sweetest of prizes: true love" (RT Book Reviews).

Free!

$1.25
Amazon
Kobo
Historical Romance
Hers to Take
When Octavia gets caught in a dangerous situation, her rival Aaron offers her a deal she can't refuse — to escape with her life, she must pretend to be his sex slave. But they don't expect a forbidden attraction to ignite…

Free!

$3.77
Amazon
Kobo
Dark Romance & Erotica
Craving
From a #1 New York Times bestselling author: After heartbreak, Jade seeks solace in the arms — and bed — of her friend's brother, hot cowboy Talon. "Raw and addictive" (Meredith Wild), with over 2,300 five-star ratings on Goodreads.

$0.99

$10.07
Amazon
Kobo
Erotic Romance
Her Uniform Cowboy
When Brandi moves to a small Texas town, sexy sheriff Kade persuades her to take a chance on love… A New York Times bestselling author delivers a smoldering contemporary novel!

Free!

$5.03
Kobo
Contemporary Romance
Venom Squadron
When conflict breaks out over the Suez Canal, RAF commander George Yeoman leads his Venom pilots on a mission rife with danger… Aerial combat meets military history in this exhilarating adventure!

$0.99

$3.99
Amazon
Action and Adventure
Never Go Back
Being the sole witness to her boss's murder is only the beginning of Alison's troubles. Accused of the deed herself, Alison must go head-to-head with a homicide detective in a race to unveil the real killer.

$0.99

$5.99
Amazon
Kobo
Thrillers
Dunn's Conundrum
"Sharp and fresh" (Kirkus Reviews): When intelligence analyst Walt Coolidge finds that a double agent has acquired top secret US nuclear information, he must piece together the clues to uncover the traitor. "Truly wonderful" (New York Daily News).

$1.34

$5.03
Amazon
Kobo
Thrillers
The Sweet Taste of Murder
Angel Lake's town playboy is dead — and Lavina is the prime suspect! Can Elise clear her best friend's name? Visit the Southern countryside in this delightful mystery!

Free!

$3.77
Amazon
Cozy Mysteries