Looking for Wonderland
Alice is a 44-year-old nurse wondering where her life has gone. Between yoga, a box of Oprah DVDs, and a handsome doctor, Alice and her best friends set out to find happiness in this lighthearted romantic comedy!

$0.99

$3.99
Amazon
Chick Lit
The Difficult Child
How do you work with a difficult child? Identify problems and find the support you need with this practical, step-by-step guide to managing conflict situations and making discipline more effective. An invaluable parenting classic!

$1.99

$12.59
Amazon
Kobo
Parenting
The Prometheus Project: Trapped
From a New York Times bestselling author: When siblings Ryan and Regan follow their parents to work, they discover a top secret project in an underground alien city. But as danger erupts, can they safely escape? "Fun and suspenseful. Highly recommended" (Kirkus Reviews).

Free!

$6.24
Amazon
Middle Grade
Contributor Trilogy
A breathtaking dystopian series: When Dara is selected by the Creators for an elite apprenticeship program, she's ready to prove her worth. But after she discovers the sinister underpinnings of her society, how much will she sacrifice to save those she loves?

$0.99

$6.29
Amazon
Kobo
Teen and Young Adult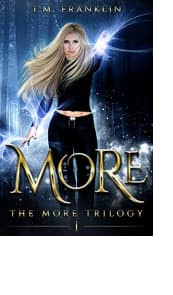 More
When Ava is confronted with the inexplicable, she discovers she's not as normal as she thought. With an ancient force threatening to destroy all she holds dear, can her handsome tutor, Caleb, protect her while she learns to harness the power within?

$1.99

$3.77
Amazon
Kobo
Teen and Young Adult
Tales of Arilland
Classic fairy tales are rewoven with offbeat and surprising twists in this innovative collection. From a New York Timesbestselling author who is "a veritable badass fairy princess" (New York Times bestselling author Jim Butcher).

$1.99

$5.03
Amazon
Kobo
Fantasy
The Immortality Game
In a future where society lies in ruins, Zoya accidentally gains possession of a package that carries the key to eternal life. With it, Zoya could change the world… if she can elude the lethal criminals who killed her brother.

$0.99

$4.24
Amazon
Kobo
Science Fiction
The Last Place You Look
Faye has a happy family and a secure life — until an unexpected chain of events throws her world off-balance. Can Faye and her husband find a way forward when the past comes back to haunt them? A "warm, moving" story (Sunday Express).

$0.99

$3.99
Amazon
Women's Fiction
Before the Leap
Jace, a heartbroken rancher, gets a second chance at love when Belle returns home to Montana. But before they can have a future together, Jace has to overcome the past… A faith-filled romance!

$1.18

$4.76
Amazon
Kobo
Christian Fiction
The Lost Heiress
An inspirational tale for fans of Downton Abbey: In the year 1910, Brook Eden learns she is the missing daughter of a wealthy Yorkshire family — a discovery that ignites "a complex series of twists, turns, and excitement" (RT Book Reviews).

$1.99

$9.99
Amazon
Kobo
Christian Fiction
Darkness Visible
This brave, candid memoir chronicles a Pulitzer Prize–winning author's battle with crushing depression — a fight he almost lost. Styron's narrative of his path to recovery is a New York Times bestseller with over 5,400 five-star ratings on Goodreads.

$1.99

$10.20
Amazon
Kobo
Biographies and Memoirs
The Titanic
The Titanic was built to be the largest vessel in the world, its maiden voyage intended to exemplify top-notch technology and breathless luxury. Instead, it became notorious for the tragedy that followed. Explore the construction and fate of the "unsinkable" ship in this detailed book.

Free!

$4.99
Amazon
History
Home Remedies Rx
This A-to-Z reference for home remedies offers effective treatments for over 100 common ailments — from chapped lips and headaches to acid reflux and indigestion. Complete with handy wellness tips that won't break the bank!

$0.99

$5.54
Amazon
Advice and How-To
Rock Strong
From a USA Today bestselling author: Bad-boy rock star Liam expected abundant parties and beautiful women on his world tour, not to fall for shy Abby. Can they overcome their glaring differences — or is their love just another one-hit wonder?

Free!

$5.03
Amazon
Kobo
New Adult Romance
Waiting
A devastating bombing left FBI agents Ana and Fin with painful scars and a broken relationship. Years later, they're thrown back together — with Fin as Ana's sexy new boss. But when a dangerous enemy returns, Fin will sacrifice anything to protect the woman he never stopped loving.

Free!

$7.04
Amazon
Kobo
Romantic Suspense
Rogue Alpha
After an unusual encounter with a wolf in the forest, Laura finds herself drawn to mysterious, protective Malcolm. The exiled alpha werewolf can't walk away from his destined mate, but their powerful attraction could prove deadly…

Free!

$3.77
Amazon
Kobo
Paranormal Romance
To Wed the Widow
A delightful Regency romance! George Sinclair is shocked when his brother declares him heir to his earldom. Ordered to marry respectably and produce an heir of his own, George looks for a wife — and finds his attention caught by five-times-widowed Lady Haywood…

Free!

$4.99
Amazon
Kobo
Historical Romance
Love's New Beginning
When Daniel discovers the truth of his parentage, he abandons Philadelphia for the Kentucky frontier. But will the search for his biological father get in the way of his budding love with beautiful Ann Byrd? An entrancing historical romance.

Free!

$5.03
Amazon
American Historical Romance
Perv
Nate lives to service women with down-and-dirty pleasure — as long as they don't expect commitment. But what happens when he meets Robyn, a woman he can't resist? A deliciously decadent erotic romance!

$0.99

$3.77
Amazon
Kobo
Erotic Romance
Treasured by Thursday
"An exquisitely written and complex story" (Publishers Weekly starred review): Elite matchmaker Gabi meets her own match in billionaire Hunter when a marriage of convenience turns into happily ever after. From a New York Times bestselling author!

$2.00

$6.29
Amazon
Contemporary Romance
Always Mine
From a New York Times bestselling author: Determined to open a museum, Emily finds herself facing off against handsome billionaire Asher. But what will happen when they discover their sizzling attraction? With over 300 five-star reviews on Amazon.

Free!

$5.03
Amazon
Kobo
Contemporary Romance
Deadly Savage
When Peter Savage and his father find themselves in a hostage situation, they discover that a cadre of Russian soldiers is planning to kill thousands and pin the deed on the US government. Can Peter stop the perpetrators before their scheme sets alight the next world war?

$1.32

$10.07
Amazon
Kobo
Action and Adventure
Fragile
A "nail-biting, nuanced whodunit" (People) and New York Times bestseller! The cozy intimacy of a small town is shattered when a teenage girl disappears. "If you haven't read Lisa Unger, what are you waiting for?" (Harlan Coben).

$1.99

$6.99
Amazon
Kobo
Thrillers
Fogbound
A "sterling legal whodunit" (Publishers Weekly) that will keep you turning pages: After he's recruited to help out with a courtroom reality show, retired judge August Jorgenson uncovers a shocking truth.

$1.99

$12.59
Amazon
Kobo
Thrillers
Chimera
Abbeyford's annual pagan festival comes to a screeching halt when several bodies are discovered. Meanwhile, a string of unusual robberies has also hit the town. Can detective Kate Redman find the connection between these crimes in this smart, gripping read?

Free!

$7.55
Amazon
Kobo
Crime Fiction