Her Forbidden Knight
After a strange event occurs in the sky above her town, baker Arabella finds herself face-to-face with gorgeous Jayden, a man from the distant past. Aware that his time with her will be brief, Jayden has just seven days to convince Bella of their passionate connection — or lose her forever.

$1.32

$3.77
Amazon
Time Travel Romance
Till Beth Do Us Part
A hilarious romp: When amateur PI Jamie Bravo gets a call from her ex-girlfriend about a dead body, she's thrown headfirst into a baffling mystery! But with an ugly dog playing sidekick and a gorgeous policewoman on the scene, nothing will stop Jamie from untangling the case.

$1.33

$6.68
Amazon
LGBT
Head over Heels
After baseball star Thane loses his adoptive mother, he falls into grief. But when sports agent and single mom Kari attempts to recruit him, the two kindred souls begin to forge a new path of love and forgiveness.

$0.99

$3.94
Amazon
Kobo
African American Interest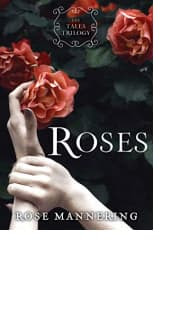 Roses
A "powerful retelling" (School Library Journal): Cursed with a freakish, fantastical appearance, Beauty flees her magical homeland to find refuge in the distant Hillands. There, she encounters friendship, destiny — and the Beast. "Lyrical, remarkably unusual… Beautifully written" (Kirkus Reviews).

$2.99

$13.79
Amazon
Kobo
Teen and Young Adult
Blackwell
"An intriguing, dark tale" (RT Book Reviews): When Magnus Blackwell is betrayed by a close friend, he travels to the underbelly of New Orleans on a quest to learn powerful magic. With his soul blackened by forbidden arts, will he have his revenge?

$1.99

$8.81
Amazon
Kobo
Supernatural Suspense
Blackwater Lights
Forgotten nightmares of a childhood summer camp float through Ray's memories. When he attempts to locate it, records indicate that the place never existed — but something is stirring there… "Disturbing, surreal, and spooky as hell" (New York Times bestselling author Tim Lebbon).

$0.99

$5.03
Amazon
Kobo
Horror
Feyland: The Complete Trilogy
What if a game was actually a gateway to the world of faeries? Jennet Carter soon finds herself battling the Dark Queen, falling for the perfect hero, and trying to save her world from unspeakable danger! An addictive trilogy.

$0.99

$9.99
Amazon
Kobo
Fantasy
Pam of Babylon
"Intriguing" (Kirkus Reviews): This poignant tale follows Pam, a beautiful Long Island housewife who learns of her husband's dark secrets only after his sudden death.

Free!

$1.15
Amazon
Women's Fiction
When a Man Loves a Woman
As the last unmarried Donahue brother, Mac has had enough of his family's meddlesome matchmaking. But when he connects with Delilah Dalton while searching for his missing sister, he discovers that true love may bloom in the most unlikely of places! A heartfelt Christian romance.

$1.32

$3.97
Amazon
Christian Fiction
Women at the Cross
Seven women witnessed the Crucifixion. Who were they — and what can you learn from them? In this insightful read, women's minister Linda Lesniewski seeks to answer these questions and demonstrate how these extraordinary figures can inspire you.

$0.99

$12.99
Amazon
Kobo
Christian Nonfiction
The Essential Wok Cookbook
A Wall Street Journal bestseller! With this versatile cookbook and a trusty wok, you can learn to make your favorite Chinese dishes at home in no time.

$1.32

$4.82
Amazon
Cooking
Dear Mister Essay Writer Guy
An essayist demystifies the craft of writing in his answers to questions sent in by Cheryl Strayed, Roxane Gay, and more! Collect need-to-know tips for being a successful — and happy — writer with this "brilliantly instructive and wonderfully entertaining" guide (Library Journal starred review).

$1.99

$10.99
Amazon
Kobo
Advice and How-To
The Darkest Torment
From a New York Times bestselling author hailed as "one of the premier authors of paranormal romance" (Kresley Cole): After entering into a loveless marriage, Katarina is kidnapped by sexy immortal Baden — who harbors a monster within. They should hate each other, but their chemistry is off the charts!

$1.99

$6.99
Amazon
Kobo
Paranormal Romance
Salt Bride
When the Earl of Salt Hendon marries commoner Jane, the newlyweds face social disapproval and intrigue. Both were forced into the marriage, but can they try to make the best of it — and even find love?

$1.99

$7.55
Amazon
Kobo
Historical Romance
How to Capture a Duke
Fiona promises to introduce her dying grandmother to her secret fiancé… but she'll have to find one first. When she crosses paths with Percival, the handsome new Duke of Alfriston, will he agree to a make-believe engagement?

Free!

$5.38
Amazon
Historical Romance
Heart of Light
From a USA Today bestselling author: Jolene Bergio spent years as the captive of a man who made every moment a nightmare. When Dr. Cameron Bowen offers her a lifeline, will she have the courage to take it? With over 1,000 five-star ratings on Goodreads.

$0.99

$3.77
Amazon
Dark Romance & Erotica
The Tycoon's Revenge
From a New York Times bestselling author: When billionaire Derek returns to his hometown, he discovers his first love, Jasmine, hiding a child he didn't know he had. But this unlikely discovery leads them to rekindle an irresistible passion… With over 5,300 five-star ratings on Goodreads.

Free!

$2.51
Amazon
Kobo
Erotic Romance
Next to You
When Stan needs a fake relationship, his next-door neighbor Sage agrees to play along. But then real sparks begin to fly… A USA Today bestselling author serves up a delightful contemporary romance!

$0.99

$4.99
Amazon
Kobo
Contemporary Romance
Marrying His Best Friend
Single mother Maura is forced to move back home to make ends meet. But when she winds up in a custody battle, her best friend, Aidan, proposes a fake marriage to help Maura keep her family together. A charming love story!

Free!

$5.03
Amazon
Kobo
Contemporary Romance
Michigan Roll
When former con man Timothy Waverly is dragged into a criminal scheme gone wrong, he'll have to outsmart a ruthless hit man to escape with his life. "Classy, if brutal, crime entertainment" (Kirkus Reviews) from an author who "can really write" (Tony Hillerman).

$1.33

$3.77
Amazon
Kobo
Thrillers
Private View
"A splendid piece of work" (The New York Times) from a "brilliant" writer (The Sunday Times): DCI Sheldon Hunter leaves a dead-end stolen art case unsolved… But four years later, a seemingly unrelated investigation leads him back to the crime.

$0.99

$2.99
Amazon
Crime Fiction
The Big Lead
A charming novel "full of humor, mystery, and romantic tension" (Kirkus Reviews): When reporter Stella moved to small-town Montana, she didn't expect a murder investigation! But an innocent man needs her help — and there's a high-profile conspiracy to uncover…

Free!

$2.99
Amazon
Kobo
Cozy Mysteries