BOOK ONE: The Stolen Bride Series

She belonged to another… But was destined to be his…

Lady Arbella de Mowbray abhors the idea of marrying an English noble occupying Scotland. When she arrives in Stirling, she is thrown into the midst of a full battle between the Scots and the English. Besieged by rebels, she is whisked from her horse by a Highland warrior who promises her safety. But when he kisses her she fears she's more in danger of losing herself.

The last thing Magnus Sutherland wants is to marry the beautiful English lass he saved. As the laird of his clan, he has a responsibility to his clan and allies. But when Arbella is attacked by one of his own men, he determines the only way to keep her safe is to make her his. A decision that promises to be extremely satisfying.

Magnus brings Arbella to his home of Dunrobin Castle in the Highlands. And that's where the trouble begins… Their countries are at war and they should be each other's enemy. Neither one considered their mock marriage would grow into a deeply passionate love. What's more, they were both unhappily betrothed and those who've been scorned are out for revenge. Can their new found love keep them together or will their enemies tear them apart?
BOOK TWO: The Stolen Bride Series

What is a Highlander to do when he falls for the daughter of his enemy?

Highland warrior, Blane Sutherland, has one mission: disguise himself as an Englishman, cross the border and retrieve Lady Aliah de Mowbray. Always up for a challenge, he agrees, pursuing his conquest with vigor—and trying to deny the powerful desire that eclipses him each time he touches his charge. A rogue of the highest order and a younger son, he has nothing to offer a lady but a broken heart.

And what is a lady to do when she cannot trust her heart?

Aliah is skeptical of the English noble who has come to take her to her father and sister in Scotland, but she pushes her doubts aside. Without word in months, she must make certain her family is safe, then she can return to England to join the convent to which she has sworn to pledge her life. But then her escort reveals his true self—he's a Highlander and his kisses are more seductive than the sweetest of wines.

Surrender never tasted so sweet…
BOOK THREE: The Stolen Bride Series

A Highlander tamed…

Laird Daniel Murray seeks adventure, battle and freedom for his countrymen. Putting off his duties as laird—with a promise to his clan he'll return come spring—Daniel sets off with his men to fight alongside William Wallace and the Bruce. But soon he stumbles across an enchanting lady in need. She tantalizes him with an offer he simply can't refuse and a desire he attempts to dismiss.

A lady's passion ignited…

Escaping near death at the treacherous hands of a nearby clan, Lady Myra must find the Bruce and relay the news of an enemy within his own camp. Alone in a world full of danger and the future of her clan at stake, she must trust the handsome, charismatic Highland laird who promises to keep her safe on her journey—and sets her heart to pounding.

Together, Daniel and Myra will risk not only their lives, but their hearts while discovering the true meaning of hope and love in a world fraught with unrest.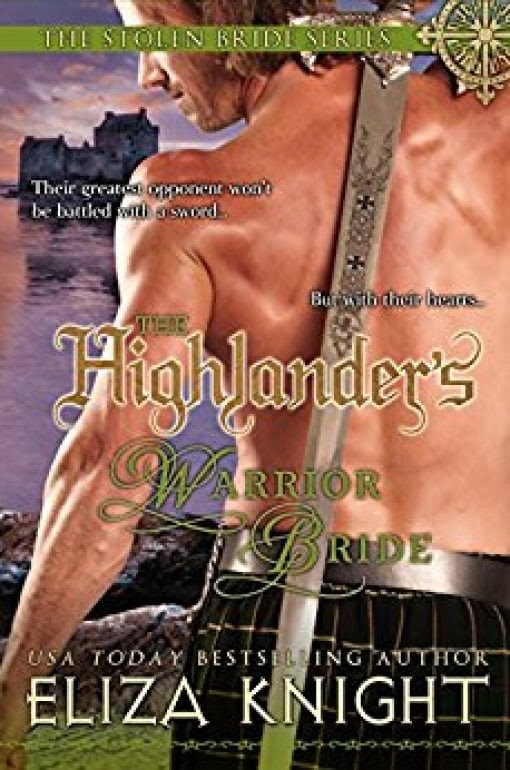 Their greatest opponent won't be battled with a sword…
But with their hearts…

Ronan Sutherland is a fierce warrior. Swearing off all else, he thrives on his powerful position within William Wallace's army. Freedom for the Scots is his mission—until he meets fair Julianna. She captivates him, intoxicates him…makes him want more out of life than what harsh dangers he's accustomed to.

Lady Julianna is no meek maiden. She's trained in the art of war, sister to one of Scotland's most powerful men, and tasked with keeping the future king safe. Until she's kidnapped by a rivaling clan. Now her only hope is for the one man she trusts—and desires—to save her.

Together, they'll have to face down one of Scotland's most treacherous foes… And keep from falling victim to the one thing they've both eluded thus far—love.

This is the fourth book in the Stolen Bride series...


He was a warrior fighting for Scottish freedom. She was his enemy's mistress.

Laird Brandon Sinclair has given his life to the Scottish cause. Swearing fealty to Robert the Bruce, he will stop at nothing to see oppression end.

Lady Mariana wants nothing more than to break free of the tyrannical hold the English king has on her. When he sends her to Scotland with a message for the rebels, instead of obeying his orders, she finds herself submitting to her desires. After one sizzling, life-altering night, Brandon and Mariana must part ways. But Mariana has no intention of betraying her heart again.

And Brandon is determined to get her back. Stealing Longshank's secrets felt like victory, but taking his woman will be this Highlander's ultimate triumph.

This is the fifth book in the Stolen Bride series. If you haven't already, check out the other books in the series!


He stole her away… But she set him free…

They called him The Priest. Maybe because of his billowing black robes and the steel crucifix that hung around his neck. Or perhaps it was because those who met him were compelled to pray. But Duncan Mackay was anything but a saint. He was a sinner—a paid mercenary. Until he met her, and she made him want to change his ways.

Lady Heather Sutherland, has never been compelled to follow rules. And this time, she's gone too far. Following in the footsteps of her brothers and cousins, she chooses to join the fight for Scottish freedom—and gets herself abducted by a handsome, rogue warrior, whose touch is sweet sin.

Duncan's duty was clear—steal Heather away from Dunrobin Castle. What he didn't expect, was to be charmed by her spirit and rocked by her fiery kiss. Now, he doesn't want deliver her to those who hired him, instead he wants to keep her all to himself.

THE HIGHLANDER'S SIN is the sixth book in the Stolen Bride series, but it can stand alone.
Prequel to the Stolen Bride Series...

Desire tempted them, but love conquered all…

Laird Jamie Montgomery is a warrior with a mission. When he travels to the northern Highlands on the orders of William Wallace, temptation in the form of an alluring lass, could be his undoing.

Lady Lorna Sutherland can't resist the charms of one irresistible Highlander. Though she's been forbidden, she breaks every rule for the pleasure of his intoxicating embrace.

When their love is discovered, Jamie is tossed from Sutherland lands under threat of death. But danger can't keep the two of them apart. No matter what perils may try to separate them—Lorna and Jamie swear they'll find a way to be together.