Once a Pirate
A delightful tale from a RITA Award–winning author: When a freak storm sends Carly back in time, she finds herself drawn into a centuries-old revenge plot — and captivated by a handsome rogue…

$0.99

$3.77
Amazon
Kobo
Time Travel Romance
The Seven Gods of Luck
"Sweetly illustrated" (The New York Times): Determined to help their mother pay for a holiday feast, two children set out to sell their prized possessions — until the Seven Gods of Luck take note of their generosity! "A lively adaptation of a Japanese folktale" (School Library Journal).

$1.31

$2.99
Amazon
Kobo
Children's
Exodus
Deep within the Bermuda Triangle, the walls of an ancient prison are failing. As the last merman, Myrick Kerr is his paranormal agency's only hope to thwart the coming evil — but how can he defeat something even gods have failed to kill?

$0.99

$5.99
Amazon
Kobo
Supernatural Suspense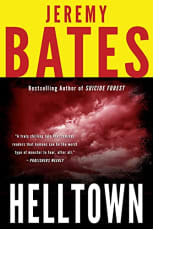 Helltown
An isolated region is plagued with rumors of dark and deadly forces — the locals call it Helltown. Curiosity about the chilling legends will lead a group of inquisitive outsiders into a world of nightmares…

Free!

$5.99
Amazon
Horror
Rise of the Dragons
From a USA Today bestselling author comes a breathtaking saga featuring fierce monsters, valiant knights, and unlikely heroes. It all begins when Kyra meets a dragon in the woods — and embarks on an unbelievable adventure! Over 1,500 five-star ratings on Goodreads.

Free!

$0.99
Amazon
Kobo
Fantasy
Breaking Gravity
Dale Adams makes a discovery that could change the world — and attracts the attention of some very dangerous enemies. If he wants to stay alive, he'll have to return to the place he tried so hard to leave behind… A smart, funny piece of science fiction!

$1.99

$6.29
Amazon
Kobo
Science Fiction
Across the Mekong River
An award-winning novel about one woman's incredible journey: As a child, Nou Lee had to escape Laos with her family in order to survive. Twelve years later, a court case in California will decide her fate…

$1.99

$6.29
Amazon
Kobo
Literary Fiction
The Promise Girls
"Reading Marie Bostwick is like wrapping yourself up in a warm, handcrafted quilt" (Debbie Macomber): Three sisters were raised to be child prodigies — but in adulthood, have they lived up to their extraordinary potential?

$2.99

$9.04
Amazon
Kobo
Women's Fiction
Dangerous Mercy
A riveting Christian thriller: Adele Woodmore is determined to help the young homeless men of Father Vince's halfway house — and she won't let anything get in her way. But danger is only a few steps behind...

$3.99

$9.99
Amazon
Kobo
Christian Fiction
The Goodness of God
Everyone goes through pain and hardship — and in those times, faith can give you the strength you need. Discover how God's love can sustain you in this inspiring read from a New York Times bestselling author.

$1.99

$11.99
Amazon
Kobo
Christian Nonfiction
Is God a Moral Monster?
There are those who think that God is arrogant and vengeful, not loving and righteous. This illuminating book faces many of these arguments head-on, exploring misconceptions about God's morality.

$2.99

$15.99
Amazon
Kobo
Christian Nonfiction
Dutch Oven Obsession
From a New York Times bestselling author comes the ultimate guide to Dutch oven cooking! Explore over 100 recipes and learn how to make a variety of dishes all in one pot.

$1.34

$5.54
Amazon
Cooking
The Rothschilds
A Wall Street Journal bestseller: Immerse yourself in the riveting story of a family's rise to unimaginable power. "The history of the Rothschilds is every bit as rich and remarkable as their wealth" (The Times).

$0.99

$3.99
Amazon
Biographies and Memoirs
The Secret Life of the Forest
Millions of people are drawn to the woods — but how many are privy to nature's secret wonders? A New York Timesbestselling author reveals an astonishing web of life in this deep dive into the intimate world of trees and forests!

$1.99

$12.59
Amazon
Kobo
Science
Jack and Rochelle
Seeking refuge in the forests, Jack Sutin and Rochelle Schleiff fled eastern Poland separately — but reunited among the trees to find strength and enduring love as they championed resistance against the Nazis. "Affecting… a valuable addition to Holocaust literature" (The New York Times Book Review).

$1.99

$17.99
Amazon
Kobo
History
The Autobiography of Mrs. Tom Thumb
Perfect for book clubs: From the New York Timesbestselling author of The Aviator's Wife comes an imaginative and unique novel. Vinnie may be two feet, eight inches tall, but she has no intention of being overlooked. "Heartrending and thrilling" (New York Times bestselling author Sara Gruen).

$1.99

$13.99
Amazon
Kobo
Historical Fiction
One Good Reason
Zoe Bloom has no interest in getting entangled with billionaire CEO Parker West — but she just can't help falling for him! An irresistible read with over 650 five-star ratings on Goodreads.

$1.99

$5.99
Amazon
Kobo
New Adult Romance
Schooled
Lex is looking forward to her last year of college — but when Dylan, her best friend's brother, transfers in, they discovers a sizzling connection. Will Lex risk her friendship for this forbidden relationship?

Free!

$4.02
Amazon
New Adult Romance
Silent Watch
Can Agent Blake Corwin convince Samantha Dawson to help him catch the killer who left her for dead? From a New York Times bestselling author, this romance "has a terrific chills-and-thrills mystery along with a passionate love story" (RT Book Reviews).

$0.99

$4.99
Amazon
Kobo
Romantic Suspense
Kindling Flames: Gathering Tinder
After landing a job as assistant to a handsome CEO, Victoria feels like her life is finally on the right track. But when she discovers her new boss is the city's most powerful vampire, she'll have to decide whether her attraction to him is worth the risk…

Free!

$7.55
Amazon
Kobo
Paranormal Romance
Tree of Gold
Gabrielle Roche is dreading her arranged marriage. But when she encounters captivating Nicolas Devaux, she feels a spark between them. Can she hope for true love with the son of her father's nemesis? An exquisite historical romance "filled with rich period detail" (Booklist).

$0.99

$3.99
Amazon
Historical Romance
The Highland Chief
An enthralling medieval romance: Darra Berchelaine has been warned about ruthless men from the north — but when a handsome Highland chief enlists her help to save his father, Darra begins to question her beliefs.

Free!

$2.99
Amazon
Historical Romance
Savage Mafia Prince
Ann goes undercover to expose the secrets of a mental institution, but instead finds herself drawn to Patient 34 — a sexy bad boy with a mysterious past. The more she explores her chemistry with him, the more danger she's in… A dark, sensual tale!

$1.33

$5.03
Amazon
Kobo
Dark Romance & Erotica
Tapped
"Intense… You will feel it deep down to your very soul" (#1 New York Times bestselling author Audrey Carlan): When Evelyn meets rich, devastatingly handsome Austin, their attraction is undeniable — but his best friend Ross will offer them even deeper pleasures.

$0.99

$5.91
Amazon
Kobo
Erotic Romance
Convincing Alex
From a wildly popular #1 New York Times bestselling author comes a breathtaking novel. Bess is a TV writer who has found inspiration in Detective Alex Stanislaski. But her research is compromised when she falls for her subject!

$1.99

$7.99
Amazon
Kobo
Contemporary Romance
The Player
Garrett Lowry broke Blair Hansen's heart in law school. A run-in years later makes him realize he still loves her, but he'll have to prove he's not the playboy from their college days… before she marries another man! A gem of a book from a New York Times bestselling author.

Free!

$4.99
Amazon
Kobo
Contemporary Romance
The Atlantis Code
"Indiana Jones meets The Da Vinci Code" (Booklist): Professor Thomas Lourds joins the race to find the Lost Continent of Atlantis! This page-turner "will take you to a new level of mystery, wonder, adventure, and excitement" (Deepak Chopra). "Wonderful entertainment" (Stephen Coonts).

$0.99

$5.36
Amazon
Kobo
Action and Adventure
Duplicity
Years ago, Julia's young brother disappeared. Now a crime reporter and mother of two, Julia remains haunted by her past — and she'll face her greatest fears when her family comes under deadly threat. From an author with "a gift for atmosphere, setting, and suspense" (Library Journal).

$2.99

$9.99
Amazon
Kobo
Thrillers
Tin God
Jaymee searches for the daughter she unwillingly gave up for adoption, while Nick is tormented by his wife's unsolved murder. A chilling letter from the killer brings them together in this dark Southern tale with over 650 five-star Amazon reviews.

Free!

$6.99
Amazon
Kobo
Crime Fiction