The Complete Horse Mistress Collection
Living as a man in a village far from home, Carivel desires two suitors — a shape-shifter and a fierce warrior. Can the power of their love help them defeat a ruthless invasion? A passionate fantasy saga!
$0.99
$7.99
Amazon
Kobo
LGBT
Deadfall
John Annibel was convicted of murder after a body was found in the secluded North Carolina redwoods — but was he hiding more crimes? A disturbing account from a New York Timesbestselling author.
$0.99
$5.59
Amazon
Kobo
True Crime
The Past Is Never
In the scorching Mississippi heat, three siblings head to a forbidden quarry to cool off — and one of them disappears without a trace. Years later, clues finally surface… but sometimes the truth is best kept hidden.
$1.99
$32.99
Amazon
Kobo
Literary Fiction
Still Here
In this "razor funny and wholly wonderful" novel (The New York Times Book Review), four Russian immigrants in their early 40s struggle with love, work, and life in America. "Brisk and amusing… think Friends with a heavy Russian accent" (The Wall Street Journal).
$1.99
$14.99
Amazon
Kobo
Literary Fiction
Set Free to Live Free
Break free from fear and shed the seven mental ties that keep you from following your dreams with this empowering read. "The eight-week study guide makes this book a perfect choice for Christian women's groups" (Library Journal).
$0.99
$16.37
Amazon
Christian Nonfiction
Smokin' with Myron Mixon
This New York Times bestseller showcases a simple approach to top-notch barbecue. You don't need fancy equipment or tedious prep work — with Mixon's efficient techniques and delicious marinades, rubs, and sauces, you'll turn out finger-licking meals! With over 750 five-star Amazon reviews.
$1.99
$18.89
Amazon
Kobo
Cooking
Tornado Boys
History buffs will be fascinated by these true tales about the men and women who flew the Tornado — one of the most notable military aircraft ever built. From the Cold War to the Gulf conflicts, this collection highlights the experiences of those who have served on this remarkable airplane.
$1.99
$24.80
Amazon
Kobo
History
The Atomic Bomb
The mid-1940s marked the end of World War II — and the beginning of America's feverish Atomic Age. Follow the nation's sweep toward nuclear advancement in this well-researched account of the infamous Manhattan Project and its effect on history.
$0.99
$12.59
Amazon
Kobo
History
Becoming Rain
"Smart and sexy" (New York Times bestselling author Karina Halle): When Clara goes undercover, she accidentally falls in love with her target, Luke… With nearly 2,000 five-star ratings on Goodreads!
$2.99
$6.92
Amazon
Kobo
New Adult Romance
Sweet Illusions
After escaping a violent cult, Eva finds healing and love with local police officer Ben in their idyllic South Carolina beach town. But when her past comes back to haunt her, can Ben protect her from those hunting her down?
$1.99
$3.99
Amazon
Kobo
Romantic Suspense
The Fifth Victim
"Smart, sexy, and scary as hell" (Lisa Jackson): A violent killer stalks the Smoky Mountains of Tennessee — and Genny's special abilities make her the next target. Can FBI agent Dallas protect her as they uncover Cherokee Pointe's darkest secrets? "I loved The Fifth Victim!" (Linda Howard).
$1.99
$5.84
Amazon
Kobo
Romantic Suspense
A Little Bit Wild
To save her reputation, Marissa agrees to marry Jude, the son of a duke. But Jude means to show Marissa just how passionate he can be… "Dahl's quirky sense of humor, interspersed with her depiction of significant personal problems, makes her characters memorable" (Booklist).
$1.99
$4.30
Amazon
Kobo
Historical Romance
A Wedding Code
Miss Amelia and Lord Derrick are to be wed — but first they must discover why a friend has gone missing. Can the two lovers find the man, dodge French spies, and prevent a murder on their way to the altar?
$0.99
$5.03
Amazon
Kobo
Historical Romance
Peacock
As a favor for a friend, alpha male Peacock agrees to tame a feisty woman — but little does he know that making her his submissive will lead to a sizzling connection…
$0.99
$3.77
Amazon
Kobo
Dark Romance & Erotica
Monroe
Alice Culver takes a job at an exclusive sex club — but she's not prepared for the billionaire owner, Damon Monroe, to seduce her! Will she surrender to all his desires?
$1.99
$6.29
Amazon
Kobo
Erotic Romance
Time Out
When NHL coach Mark volunteers with a girls' softball team, he comes face-to-face with his childhood friend, Rainey. The spitfire woman drives him crazy — yet he can't stop thinking about kissing her… A sexy romance from a New York Timesbestselling author!
$0.99
$4.99
Amazon
Kobo
Contemporary Romance
Accidental Agent
Follow one steadfast man's impressive military career through being a tank-driving instructor, escaping from the Gestapo, and strategizing to defeat German forces during World War II. A gripping true account.
$1.99
$27.20
Amazon
Kobo
Action and Adventure
Belle Chasse
Veteran Navy SEAL Glenn Kenney pursues his ex-wife's killer from the Mississippi to the Caribbean — with a dogged police detective close on his tail. A pulse-pounding nautical thriller from "a master storyteller" (Clive Cussler).
$0.99
$4.99
Amazon
Thrillers
Painted Walls
It's been 30 years since Ava Shepherd's father — a seemingly ordinary family man — was exposed as America's most notorious serial killer. Now, someone is mimicking his crimes. When Ava becomes the prime suspect, she must delve into her past to find the real culprit.
$0.99
$6.29
Amazon
Thrillers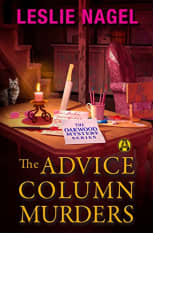 The Advice Column Murders
From a USA Today bestselling author comes this absorbing small-town whodunit. After a murder in her neighbors' home, Charley Carpenter becomes convinced that the key to the mystery lies in a strange letter to the local advice column…
$1.99
$6.29
Amazon
Kobo
Cozy Mysteries
The Messenger
When Madeline accidentally jumps centuries into the past, she discovers forbidden love, unfathomable danger — and a destiny beyond her wildest imagination.
Free!
$3.77
Kobo
Time Travel Romance
Every Little Kiss
From a USA Today bestselling author: When Wendy inherits an inn, she has no choice but to return to her hometown. Though Blue Moon Bay is full of bad memories, a handsome stranger may finally give her a reason to stay… A lighthearted romantic comedy!
Free!
$5.99
Amazon
Kobo
Chick Lit
Entangled
With nearly 900 five-star ratings on Goodreads: Two months after dying, Gray wakes up in her twin's body. She's forced to spend every other day impersonating snobby Charlene — and only warlock Raj notices the difference. Can Gray be saved, or will she fade altogether?
Free!
$3.77
Amazon
Kobo
Teen and Young Adult
The Tide
On an abandoned oil rig, a genetic engineering lab commits atrocities against humankind. An apocalyptic tale that's "thrilling, pulse-pounding… with compelling science and a frightening twist" (USA Today bestselling author Nicholas Sansbury Smith).
Free!
$3.77
Amazon
Horror
Off Leash
Thomas wanted an ordinary life. But when he wakes up as a talking lion in a magical world, he knows nothing will ever be the same — especially with a pyromaniac squirrel, angry werewolves, and a murder to solve. A laugh-out-loud fantasy!
Free!
$3.77
Amazon
Kobo
Fantasy
No Other Way
From a New York Times bestselling author! When Harley returns home to Texas, she rediscovers her sizzling chemistry with her best friends Caleb and Tyson. But maybe she doesn't have to choose between them…
Free!
$5.03
Amazon
Kobo
New Adult Romance
Tempted by Fire
When Emerson finds herself mediating between two powerful clans, she can't seem to get away from smoldering Thane — a centuries-old dragon shifter who sparks something dangerous and passionate in her heart…
Free!
$3.76
Amazon
Kobo
Paranormal Romance
A Scandalous Wife
When the brother of Robert, the Earl of Masten, abandons a young woman, Robert does the honorable thing and marries the girl himself — then packs her off to a country estate. Years later, sick of her gilded cage, Lydia sets out for London, where adventure and her husband await!
Free!
$3.77
Amazon
Kobo
Historical Romance
True-Blue Texan
Former professor Katherine is totally out of her element when she starts a new job teaching adults who dropped out of high school. Tall, dark, and handsome Nick is keeping his presence in the class a secret — but that doesn't stop the sexy Texan from wanting to show the teacher a few new things himself…
Free!
$5.03
Amazon
Kobo
Contemporary Romance