The No More Bullying Book for Kids
Help your child build the confidence and resilience to deal with bullies! This helpful and practical guide for kids gives them tools to understand what bullying is — and how to put a stop to it.
$1.32
$5.99
Amazon
Parenting
Door into Terror
Tamara Powell arrives on Marteau Island to work as a tutor at an isolated mansion. But when eerie things begin to occur around her, she realizes she may have walked blindly into a deadly trap…
$0.99
$3.99
Amazon
Horror
Silver Scales
To escape the legions of hell, Sir Damon Kildare has to succeed in a seemingly impossible quest. But Zenobia, a dragon-slayer's daughter, will stop at nothing to find the key to saving his soul…
$0.99
$6.29
Amazon
Kobo
Fantasy
The Last Revolution
After machines with the ability to self-reproduce are invented, their intelligence quickly outpaces man's. Will they maintain their intended purpose of service, or rebel? A cautionary tale from "one of the fantasy genre's foundational authors" (Kirkus Reviews).
$1.99
$9.99
Amazon
Kobo
Science Fiction
Die Before You Wake
A witty tale brimming with humor: Bartender-turned-sleuth Vicki Bohanan must rescue her old nemesis from a murder sentence in this wisecracking mystery.
$0.99
$5.03
Amazon
Kobo
Humor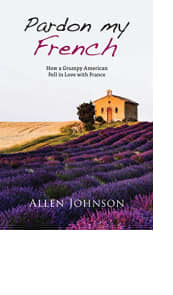 Pardon My French
A middle-aged American couple moves to France in a memoir that's perfect for fans of Bill Bryson and Frances Mayes. "Openness and curiosity, along with the author's infectious humor… make Pardon My French both entertaining and enlightening" (Booklist).
$1.99
$13.79
Amazon
Kobo
Biographies and Memoirs
The God Particle
With over 1,300 five-star Goodreads ratings: Let a Nobel Prize–winning scientist take you on a fascinating and vivid journey through particle physics. This guide to the secrets of the universe is "funny, clever, entertaining, and highly accessible" (Library Journal).
$1.99
$13.99
Amazon
Kobo
General Nonfiction
Air Heroes of World War II
This absorbing history shines a light on aircraft pilots from numerous nations who courageously performed vital tasks during the Second World War.
$0.99
$3.99
Amazon
History
Harrier Boys: Volume One
This must-read volume weaves accounts of Harrier operators with the history of the iconic British jet. Filled with firsthand stories of the camaraderie and pride of Cold War–era pilots!
$1.99
$24.80
Amazon
Kobo
History
Games in Londinium
Once a Greek nobleman, Ikaros of Apollonis becomes enslaved by the Roman Empire. But as people begin dying across Londinium, Ikaros finds himself investigating the deaths in this gripping historical novel.
$0.99
$3.99
Amazon
Historical Fiction
The Hookup
When math genius Sophie decides to lose her virginity, sexy Cain turns her careful calculations upside down! This romance is "a scorcher and an unexpected delight starring the most unlikely naughty-and-nice pair" (RT Book Reviews).
$1.99
$6.29
Amazon
Kobo
New Adult Romance
Highland Chieftain
When Bethoc finds a half-drowned man, she pulls him to a cave and secretly tends to his wounds. Highlander Sir Callum might be injured now, but as he gets to know Bethoc, he becomes determined to save her just as she's saved him. From a New York Times bestselling author!
$1.99
$4.30
Amazon
Kobo
Historical Romance
La Desperada
Elizabeth needs rugged Boone's help — even if she has to acquire it at gunpoint. But as they struggle to survive in the Texas wilderness, their desire for each other grows… "From the first word to the last, you'll be breathless and craving more" (RT Book Reviews).
$0.99
$5.99
Amazon
Kobo
American Historical Romance
Training Sasha
Sasha is eager to explore her submissive side, but BDSM club owner Lincoln — who's also her brother's friend — won't admit his attraction to her. Can she convince him to help her explore her sexual desires?
$0.99
$5.03
Amazon
Kobo
Erotic Romance
The SSU Series: Books 1-3
When a microchip containing deadly scientific research disappears, the Surgical Strike Unit must embark on an international manhunt. If it falls into the wrong hands, the consequences could be catastrophic… Thus begins a pulse-pounding box set!
$0.99
$6.99
Amazon
Kobo
Action and Adventure
Dead Lawyers Don't Lie
A fast-paced thriller with over 2,000 five-star Amazon reviews: When army vet Jake Wolfe accidentally snaps a photo of a vicious killer named The Artist, he's drawn into a terrifying game of survival. How far will Jake go to escape the violence and protect those he loves?
$0.99
$2.99
Amazon
Thrillers
Stay Calm and Collie On
Animal lover Sue owns an upscale doggy day care — but when a murder tarnishes its sterling reputation, she and her aristocratic British business partner must work together to unmask the culprit. Can Sue and Lady Anthea save Buckingham Pet Palace?
$0.99
$2.99
Amazon
Kobo
Cozy Mysteries
Dames Fight Harder
From a Shamus Award–winning author comes this evocative mystery set on the World War II homefront. PI Maggie Sullivan investigates a construction site murder with her friend as chief suspect. "My new favorite female private eye" (New York Times bestselling author Debbi Mack).
$1.99
$5.03
Amazon
Kobo
Historical Mysteries
The Martian
A #1 New York Times bestseller that was adapted into a blockbuster film starring Matt Damon! When Mark Watney is stranded alone on Mars, it will take all of his expertise and ingenuity to survive. "Sharp, funny, and thrilling" (Kirkus Reviews), with over 330,000 five-star Goodreads ratings.
$2.99
$9.99
Amazon
Kobo
Bestsellers, Science Fiction
Forbidden
Biker Gage is hooked after he spots Raven at his club — even though she's off-limits and too young for him. But little does he know that she wants Gage just as badly as he wants her…
Free!
$1.25
Amazon
Kobo
New Adult Romance
Reckless
From a New York Times bestselling author: Toni lands in the wrong place at the wrong time and becomes the target of a crime ring. Undercover agent Nick can't risk being exposed — and the best way to protect the vivacious beauty may be to hold her hostage…
Free!
$5.03
Amazon
Kobo
Romantic Suspense
A Dangerous Deceit
After Miss Jane Ballenger inherits her brother's wealth, Sir Gabriel arrives on her doorstep, planning to claim her inheritance for the crown. While they start at odds, the pair can't ignore the attraction between them! "This series is pure pleasure" (Publishers Weekly).
Free!
$5.43
Amazon
Historical Romance
Where Your Heart Is
A sweet romantic comedy from a USA Today bestselling author: Iris isn't interested in living on Lilac Bay Island — especially since her ex, David, is still there. But as she settles into quirky book clubs and gets closer with her family, could she change her mind?
Free!
$5.03
Amazon
Kobo
Contemporary Romance
The Stone of Sadness
From a USA Today bestselling author: While cleaning out the attic of the late aunt who raised her, law student Olivia Miller becomes obsessed with an unusual cold case: the grisly unsolved murder of her own distant cousins.
Free!
$5.03
Amazon
Crime Fiction